Fill quesadillas with whatever you like + add toppings.
A quesadilla, pronounced ke-sa-diya, is a flour or corn tortilla filled with a savory mixture containing cheese and other ingredients. A Mexican quesadilla is typically a tortilla folded in half, while American versions are more like a grilled cheese—two tortillas with the filling in the middle. What's fun about quesadillas is that they work well as an appetizer, a main dish, and as a great lunch or brunch item. For kids, I fill them with marinara sauce and cheese, and for adults I've made different versions. Any of your favorite panini or sandwich fillings can be adapted for the quesadilla—avocado and cheese, tuna, veggies, and cheese. You can serve them with either marinara sauce or salsa and sour cream (or even guacamole) for dipping.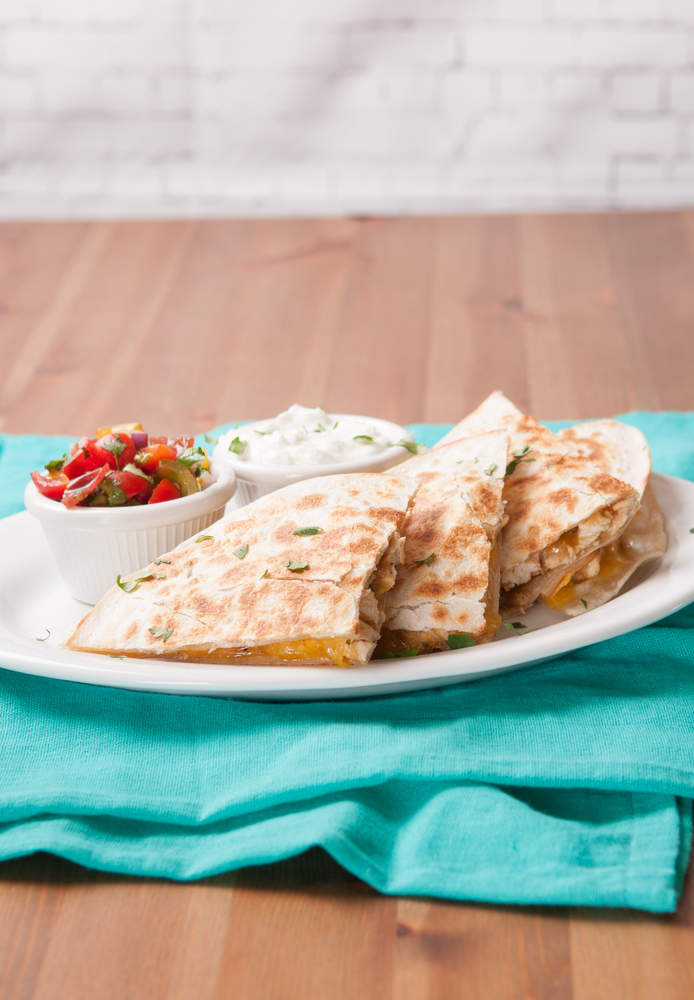 airy

Spinach Quesadillas
Ingredients
2 tablespoons butter or oil
1 onion, finely diced
1 garlic clove, crushed
8 ounces frozen spinach
¼ cup heavy cream
¼ cup mozzarella cheese
Salt and pepper, to taste
8 (6-inch) tortilla wraps (whole wheat or regular)
2 plum tomatoes, sliced
¾ cup cheddar cheese or a mix of cheddar and mozzarella
Instructions
Heat butter or oil in a sauté pan over medium heat. Add onion and garlic, and sauté until onion is soft. Add spinach and cook, stirring occasionally, until spinach is cooked through, about 5 minutes. Slowly add in heavy cream while stirring. Add cheese and mix to combine. Season generously with salt and pepper to taste.
Top the first wrap with about 2 tablespoons of spinach mixture. Top with tomato slices, and sprinkle generously with cheddar cheese. Layer second wrap on top.
Heat a nonstick skillet over medium heat. Add quesadilla. Place a second pot on top of the quesadilla to weigh it down, panini style. Cook until cheese is melted, about 5 minutes.