We asked Renee Muller what her family loves and what her fans love…and discovered one more little culinary secret.
BCP: What is your family's favorite recipe from Our Table?
Renee: Oh wow. That's like asking me to pick one of my children. Seriously? Well, if I really have to do this, then I'd say among the top 5 is the Fragrant Standing Rib Roast. My children's eyes literally light up when that roast appears at the Yom Tov table. That and the Onion Crisps, of course, which I always share side by side.
The other 3 (from the top 5) would definitely be the legendary Kaas Potjes, the Classic Chicken Soup, and the Sea Salt Caramels. And the Irresistible Toffee. Oh, wait. That's 6.
See? I told you it was impossible. And I forgot to tell you about my Seared Tuna.
I give up.
---
BCP: Which recipe do you think is the most popular from your cookbook?
Renee: Most definitely the Kaas Potjes. But a close runner-up is my Whole Wheat Challah.
---
BCP: Is there a dish you make that's not really a recipe but you make all the time? Something that your family loves but you couldn't put in a cookbook because it's either embarrassingly simple and/or uses ready-made or store-bought ingredients?
Renee: Sure. We all have those. Our favorite is Miami ribs marinated in Bone Suckin' sauce. Grill them for a few minutes and dinner is served, and it's always a hit.
---
The Recipes: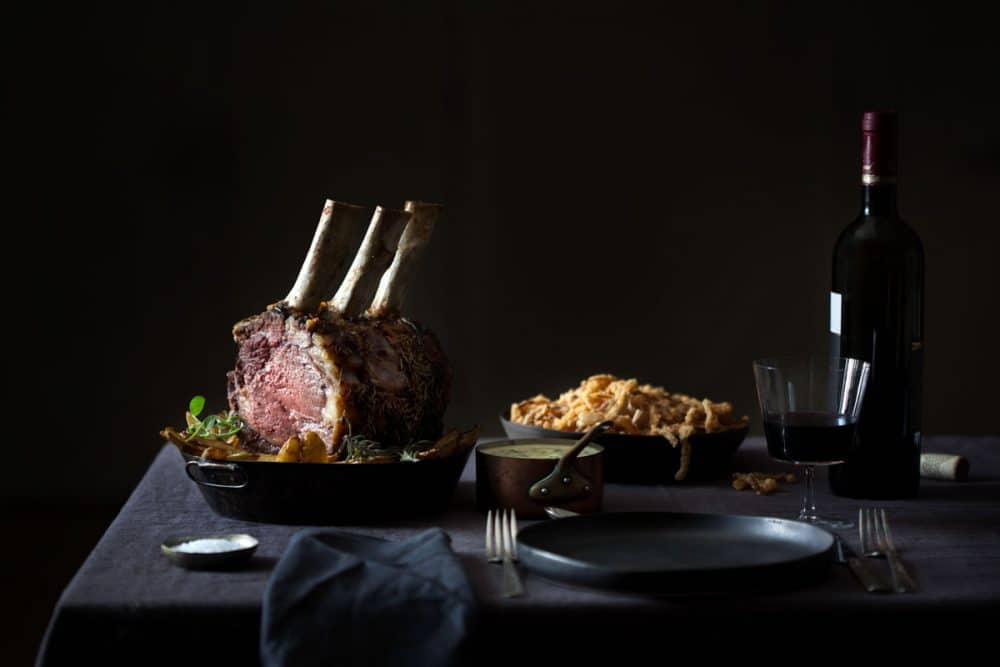 Fragrant Standing Rib Roast  
This recipe has been circulating for years now. I came up with it one Erev Yom Tov when I was a newlywed and had splurged on a beautiful hunk of meat I saw at Epstein's butcher shop. I couldn't quite afford it, but I couldn't leave it there either; Yom Tov seemed like a good excuse to buy it. After much research and debate about how to cook this meat, we were not disappointed. The roast proved to be worth every penny, and many, many standing ribs later, I can attest that it's always a hit. Just the scent of the meat roasting in the oven will make your guests want to linger.
And so, every Erev Yom Tov without fail, I receive a few phone calls, emails, or text messages asking once again, "How exactly do you cook that unbelievable roast?" By now, it's a classic.

Fragrant Standing Rib Roast
Ingredients
1 (4-6-pound) standing rib roast with bottom bones in
1 head fresh garlic (about 25 cloves), crushed
1 Tablespoon Pink Himalayan salt or Lawry's seasoned salt (if not available, use kosher salt)
1 teaspoon paprika
1 teaspoon black pepper
1 Tablespoon dry rosemary (optional but highly recommended)
3 Tablespoons oil
Instructions
Before you unwrap the meat, make a note of the weight printed on the label. You'll need this to determine the cooking time.
In a small bowl, combine garlic, spices, rosemary, and oil to form a paste. Rub into the meat on all sides. Wrap the entire roast tightly with plastic wrap and then in foil. Refrigerate overnight, up to 24 hours.
Let roast come to room temperature for at least one hour — two hours for a larger roast. This step is important for precise cooking. Cooking a cold-from-the-fridge roast will yield different results.
Preheat oven to 325°F. Unwrap the roast and place into a roasting pan, bones down (hence the term "standing rib roast"). Roast for 25-30 minutes per pound. (For example, a 4-pound roast will need 1 hour 40 minutes to 2 hours, depending on how rare you like it.)
Remove the roast from the oven; tent[FE1] with foil. Let stand for 10 to 15 minutes before carving.
Yield: 8-10 servings, depending on roast size
Notes
Don't make ahead

This roast should be served immediately, like a steak. Before Yom Tov, prepare and refrigerate the rub and then cook roast on Yom Tov. This is not a roast you can prepare in advance.

TIP

Tenting helps prevent the roast from drying out as it rests. Cut
a piece of foil large enough to cover the roast in the pan. Fold foil in half; drape it over the meat. Don't press it onto the meat; let the foil rest lightly on top.
Don't expect the bones on your roast to look like those in the photo; usually the bones are cut short, but Mr. Epstein left these long so the roast would look so dramatic in the picture. You will notice that some roasts come with the bones removed yet still attached to the meat with twine or a net. This is because the roast is best cooked with the bones, yet slices easily without bones. Once cooked, discard them.
Onion Crisps
You know those amazing deep-fried, crunchy onions that restaurants serve next to a succulent steak? Tell me one person who does not love those onions. I once ordered a bowl of them at a Manhattan restaurant, as an appetizer (no, they were not listed on the menu) (yes, the waiter thought I was quite odd).
I've been trying to replicate these onions for years, with different batters and such, ranging from beer to eggs. This method proved to be the easiest. And the best. I just love it when that happens. These onion crisps are highly addictive. And fattening. Don't say I didn't warn you. Last Sunday, as we were munching on them at our family BBQ, we tried to come up with an appropriate name for this crunchy and irresistible side.
"Funions?" said my cousin.
"Onion Fries?" said my son.
Then someone said "Heartburn," and we all had a good laugh.

Onion Crisps
Ingredients
2 cups soy milk
3 Tablespoons vinegar
4 large onions
about 5 cups of flour
1 teaspoon salt, plus additional for sprinkling
2 teaspoons garlic powder
1 teaspoon paprika
oil, for frying
Instructions
In a bowl, combine soy milk and vinegar to create pareve "buttermilk." Let stand. Meanwhile, slice onions thinly, into half rings, the thinner the better. Place sliced onions into "buttermilk." Stir; refrigerate at least a half-hour or up to 4 hours. (Don't rush this step. It's important for the onions to sit in the liquid; that's what makes them soft.)
In a large bowl, combine flour and spices. In a large pot, heat oil. Meanwhile, working in batches, remove a handful of onions from the buttermilk, and dredge them in the flour, coating evenly. Transfer each handful to a colander and toss to remove the extra flour.
In a deep pot or deep fryer, heat oil to 350ºF. Drop coated onions into the hot oil; fry until golden, but not too dark, 4-5 minutes maximum. Drain in paper towel-lined bowl; sprinkle with salt, to taste. Serve warm.
Notes
Notes from Renee: Onion crisps can be rewarmed in oven or re-fried briefly.