Shiffy said, "It's nothing, it's not a recipe," and we said, "That's exactly what we want!"
Note from BCP: You are already familiar with Shiffy's recipes here on BCP, including some epic ones, like The Most Delicious Cauliflower Soup, Dairy Apple Caramel Galette, and more gourmet items like this Eggplant and Pistachio Appetizer. If you want to see the rest, check them out here. Then, one day, Leah and Shiffy were schmoozing about recipes and Shiffy gave her a whole list of new gourmet ideas. Then, Leah asked her, "What's your kid's favorite?" First, she resisted. After all, some people might say "this isn't a recipe." But Leah persisted. And here we are, a perfect kid-friendly 9×13 to start off the school year. Now, Shiffy will tell you more.
The truth is, this isn't the first time I've shared this recipe dinner idea (I still say it's not a recipe). But when Leah asked, 'What's your kids favorite dinner?' This was the obvious answer, hands down.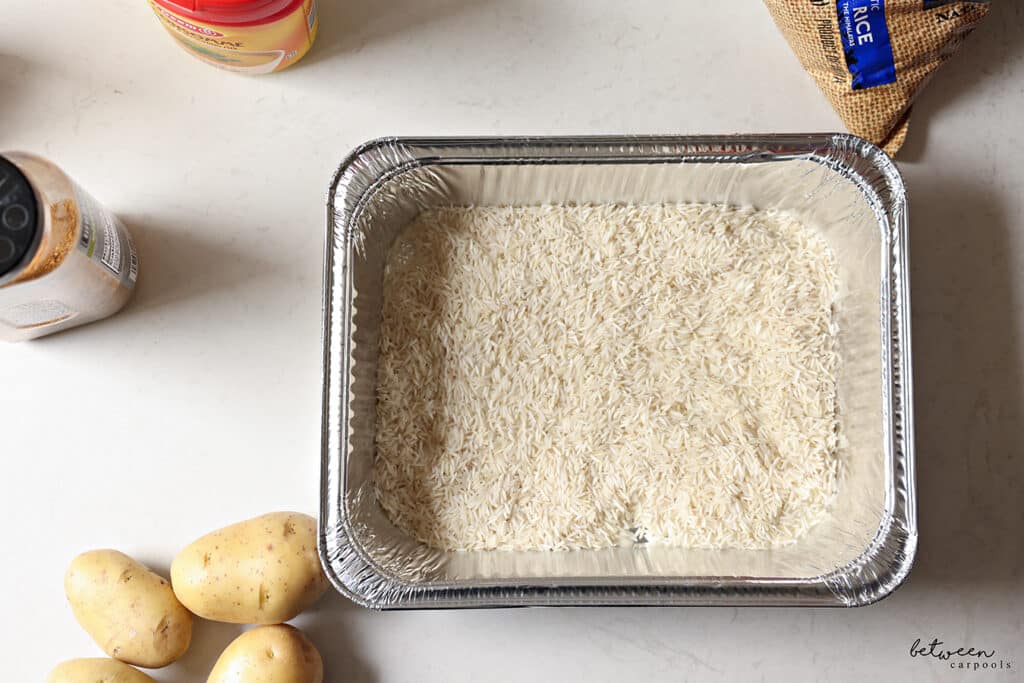 It's very versatile. After you add the rice,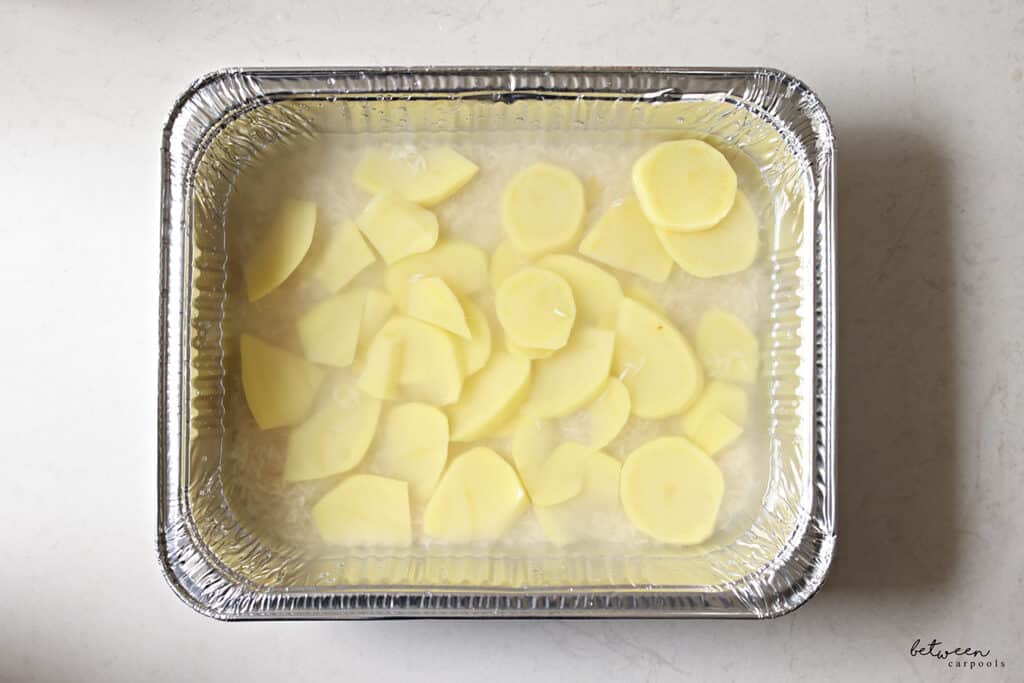 you can throw in the potatoes, or not. You can swap them for sweet potatoes, or not.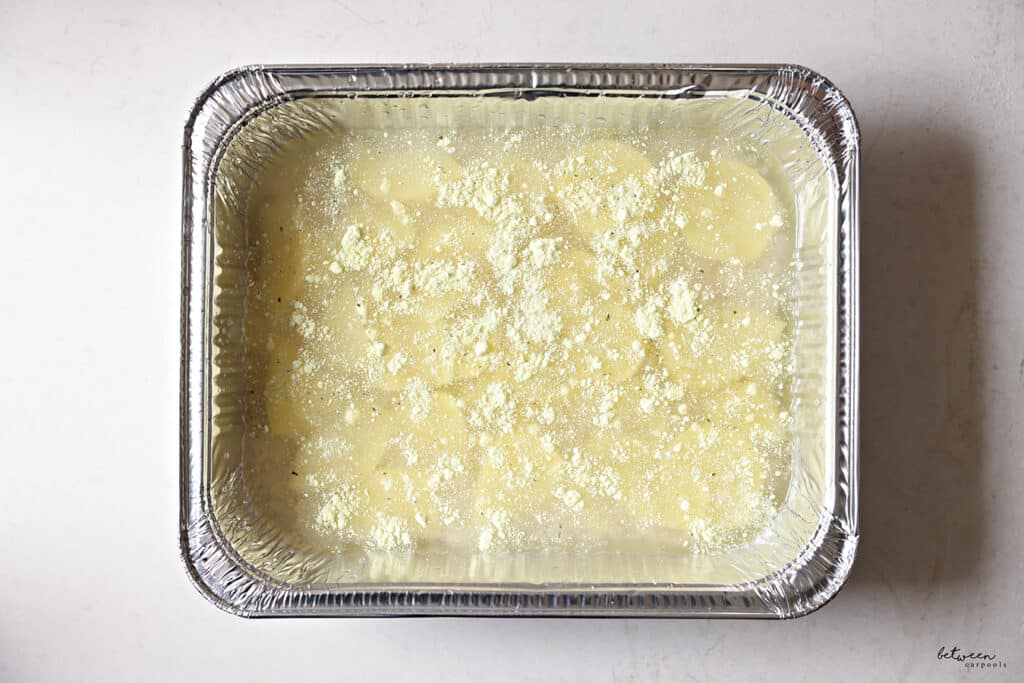 Also–for those who don't like using chicken consomme, lately I've been using the new version that comes with a green lid and is made from all natural ingredients–look out for it!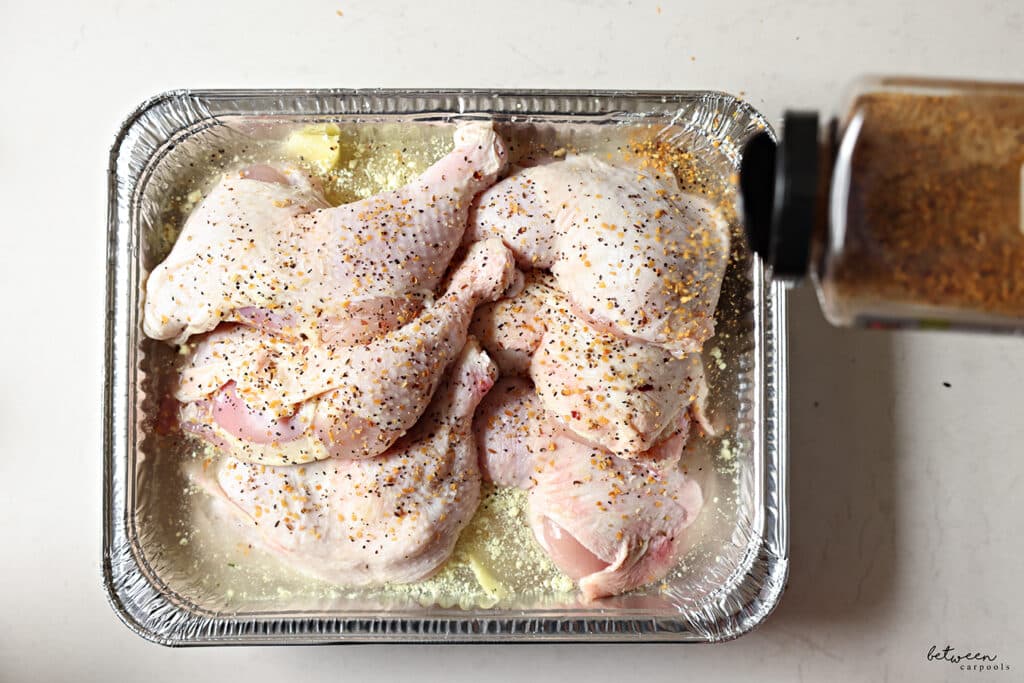 Now—sometimes people come back to me and say, "It didn't taste the same as when you made it!" Here's the trick–really loading up the pan with those chicken legs. You want the fat from the chicken to flavor everything beneath it. When you put less chicken, it's just not the same (if using less chicken, add some oil).
Really, the spices are flexible. Here, I used simply Montreal Steak Seasoning and this Garlic and Herb spice mix from Weber (note that even though the big container and the small containers have a different name, it's the same ingredients). Sprinkle on liberally!! Even though, yes, you can add spices on their own, I highly recommend this spice mix for its convenience and great flavor. 
This will bake for 90 minutes and give you something that's so much more than the sum of its parts–both because of the easy of prep, simplicity, and because of how happy it just makes everyone!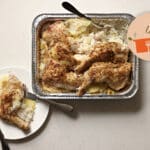 Print Recipe
Kid's Favorite 9×13 Chicken, Rice, and Potatoes
Ingredients
2

cups

rice

2

large

Yukon gold potatoes

4

cups

water

1½

tbsp

chicken consomme

6

chicken legs (thigh and drumstick attached)

(add some oil if using less)

Montreal Steak Seasoning,

for sprinkling

Weber Savory Herbs with Roasted Garlic,

for sprinkling liberally
Instructions
Add rice to a 9×13 pan. Add potatoes, water, and chicken consomme. 

Add chicken, overlapping them as seen in the photo. If you are using less chicken, add more oil to the pan. 

Sprinkle liberally with spices.

Double cover and bake for 1½ hours.