It's that simple, fresh thing that everyone loves.
Sometimes, we rack our brains to think of something new and interesting to serve over Yom Tov. But you know what? Sometimes you don't even need to think so hard.
Sometimes, it's the things that are the simplest–the ones that are so obvious you don't even think it's an option–that are the best.
Like guacamole. It's that perfect, fresh thing to have on the table to start the meal. You just need a cool way to serve it.
We first featured the concept of toasting wraps to make flatbreads (we even showed them with guacamole) in this post.
Now you can make the same simple dish look much more elegant–without one more ounce of work.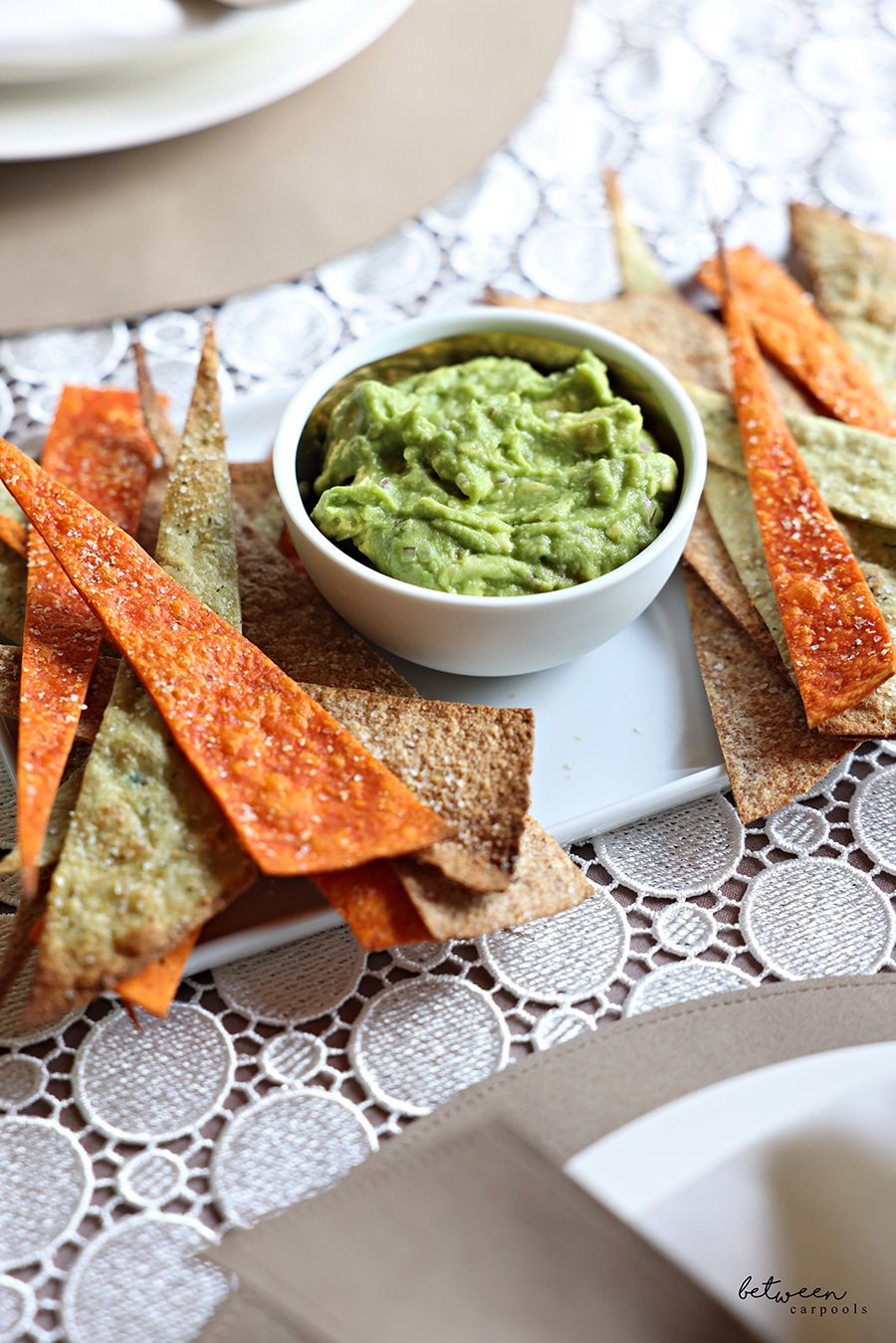 I'm using three flavors of wraps–the whole wheat (regular is also fine), sun-dried tomato, and spinach so I have three colors of chips. In this post we used square wraps and cut them into flatbread shapes. Round wraps are usually cut like a pizza, but I wanted a more artisan type of look.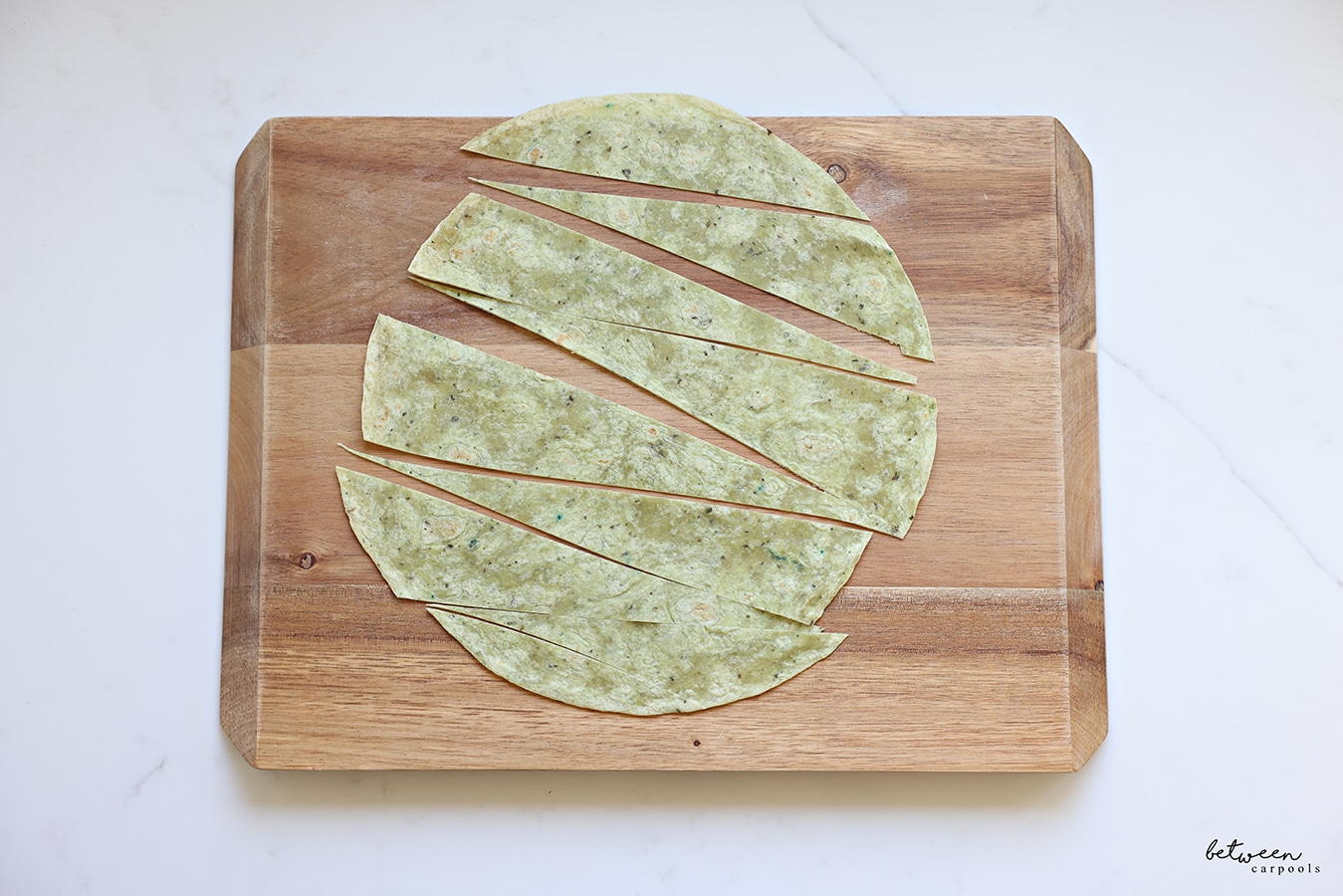 Instead of a pizza slice, just slice your wraps on a diagonal across the entire diameter.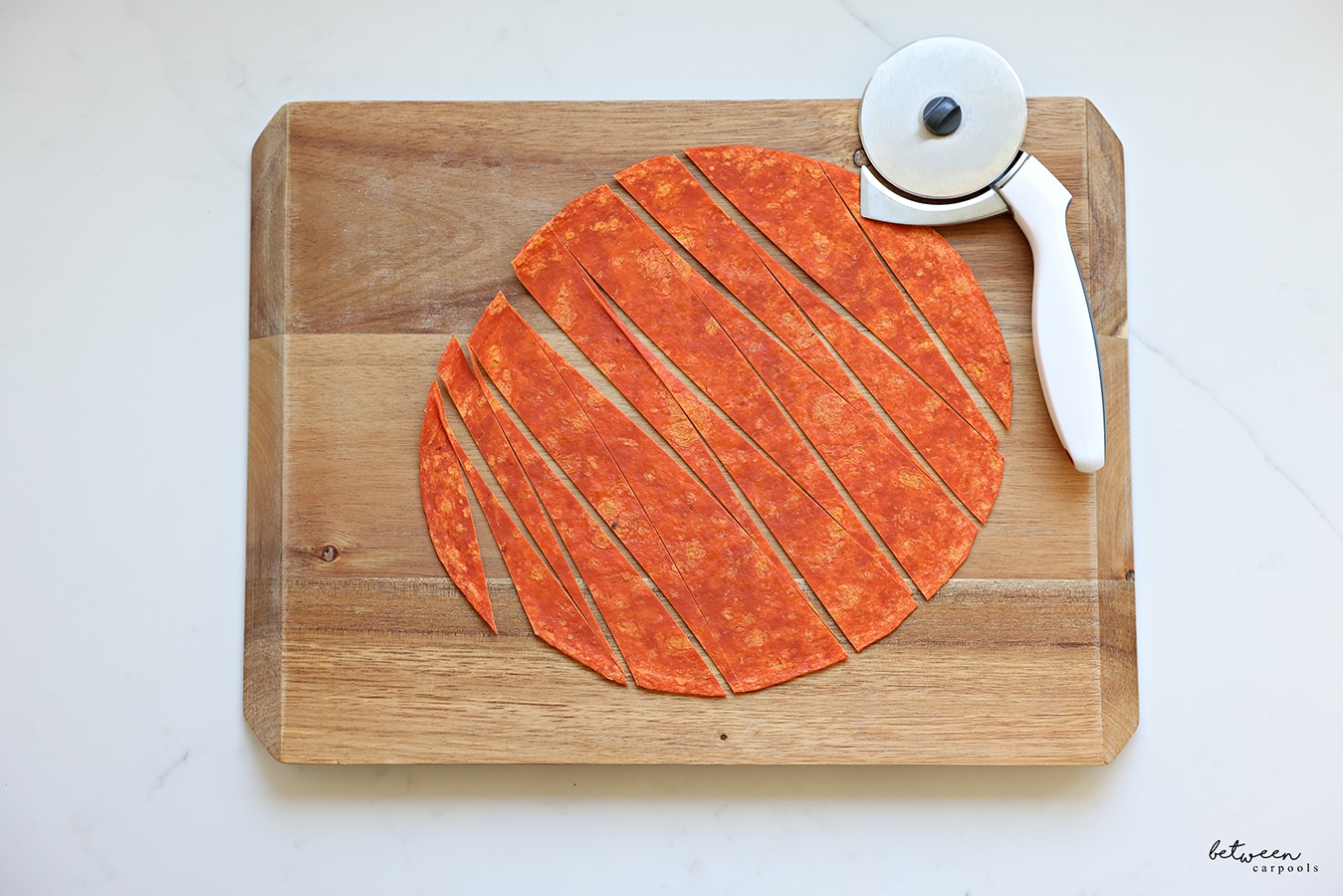 Make them thin or thick, they don't need to be the same, the more varied the better.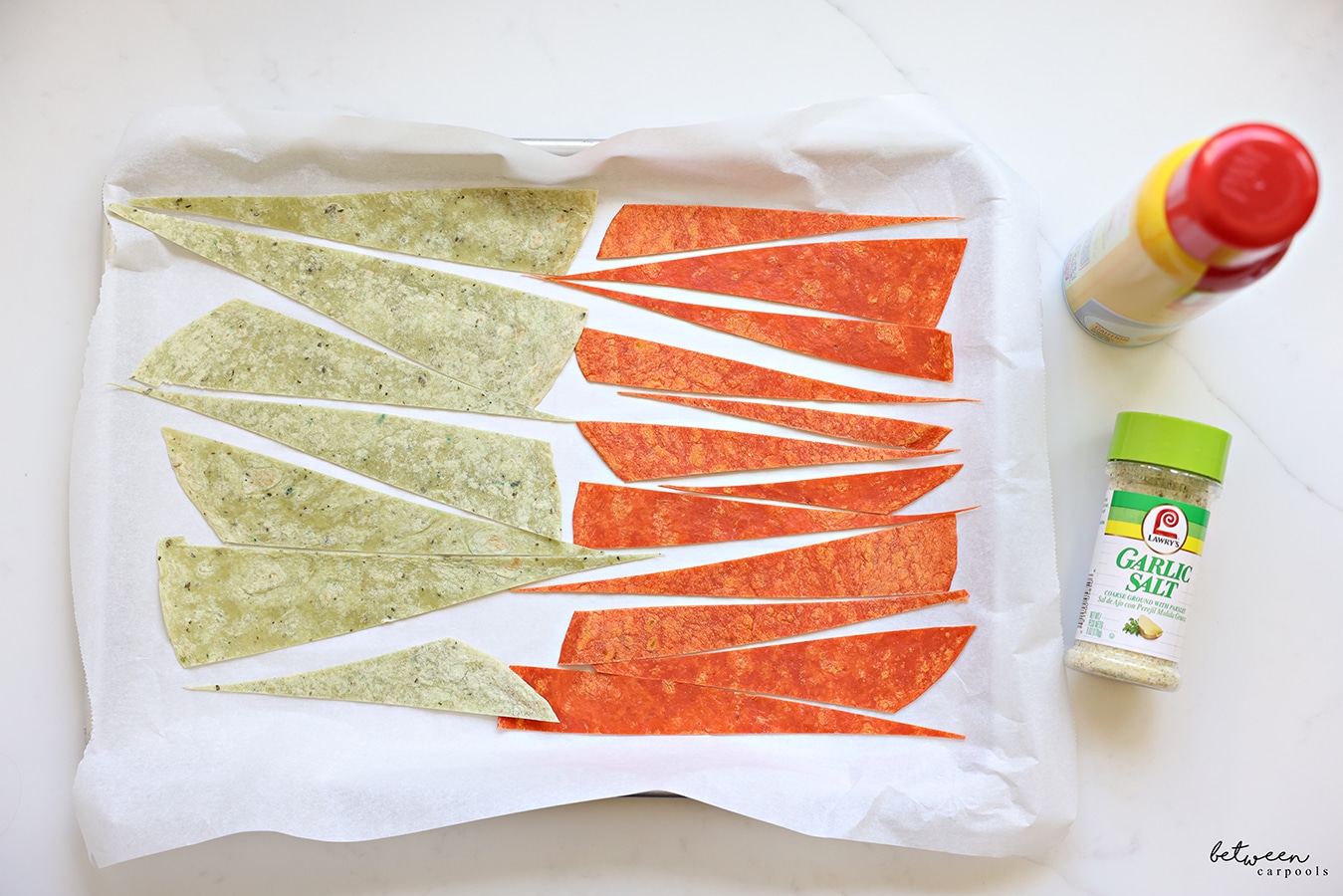 Spray with nonstick cooking spray and sprinkle with Lawry's Garlic Salt. Note that you do not need to use this garlic salt or garlic salt in general. Salt and garlic powder is perfectly fine.
This spice mix, for me, just happens to be a go-to. Just so convenient. It's one of my most used spice mixes.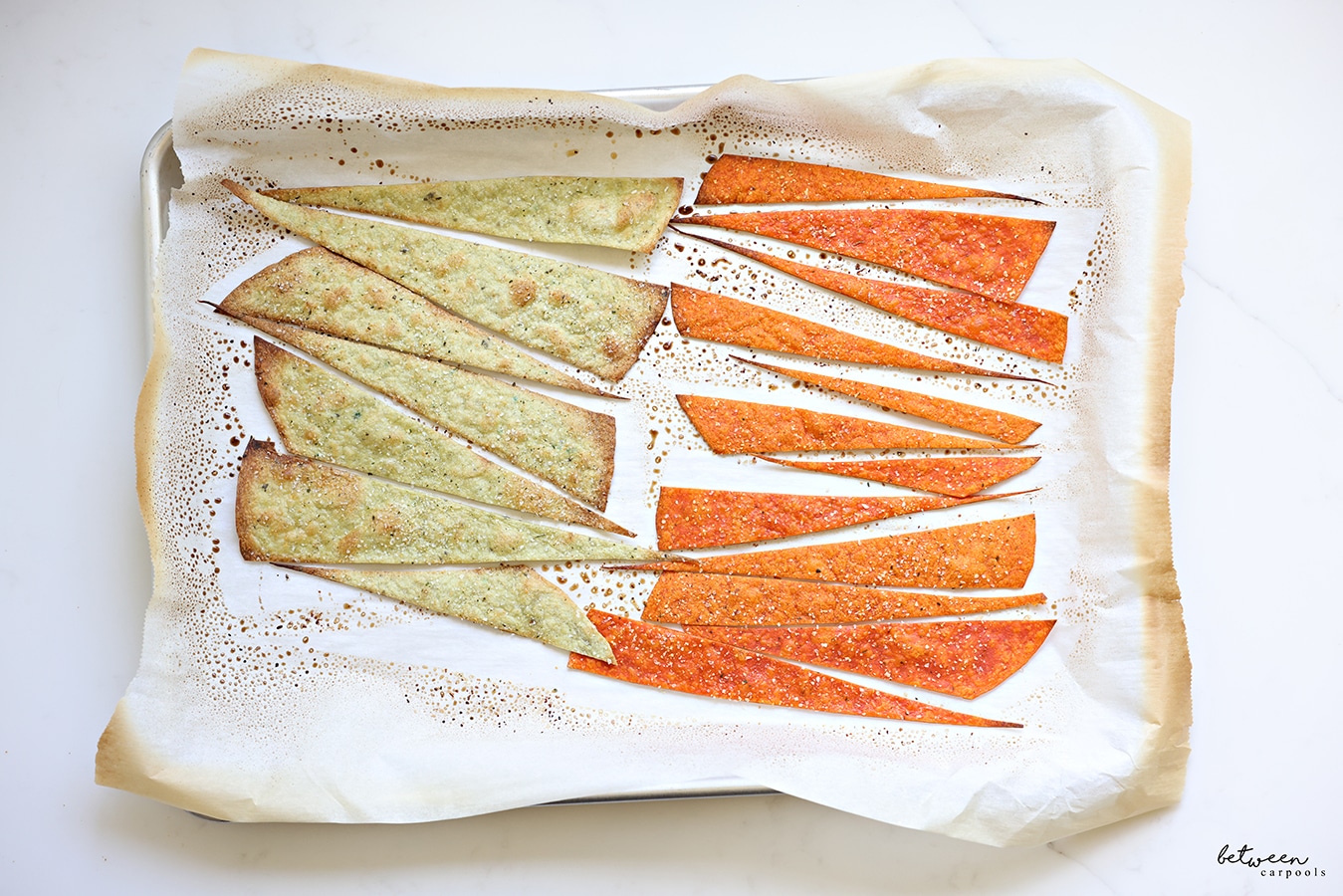 Bake at 425°F for 5-6 minutes, until they crisp up and are brown at the edges. It might be a minute or two longer, depending on your oven. These wraps need to be WATCHED very carefully because they will be done quickly. If you get distracted you will burn them!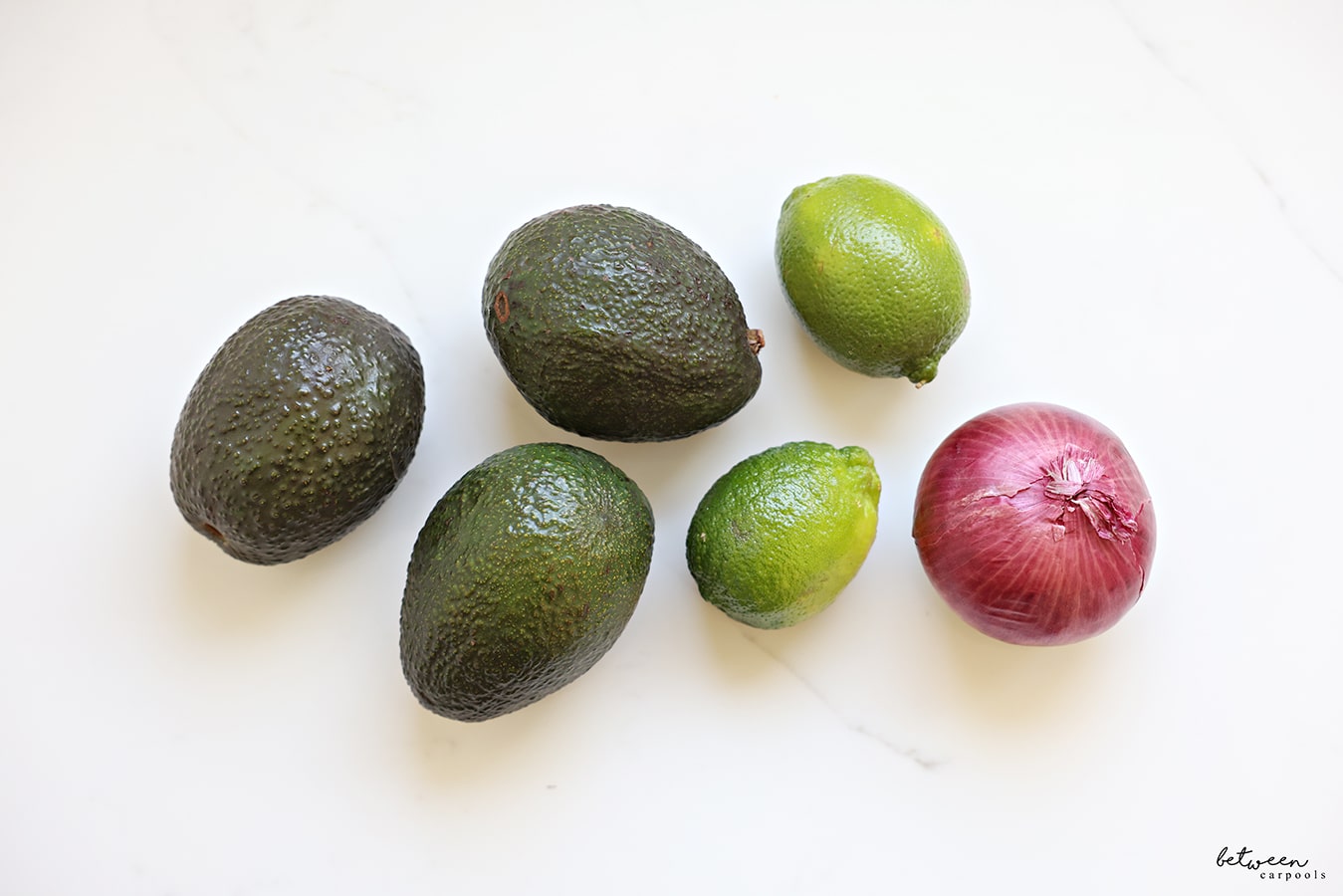 Now for the guacamole. Again, just simple and perfect with perfectly ripe avocados, fresh lime, chopped red onions, and salt.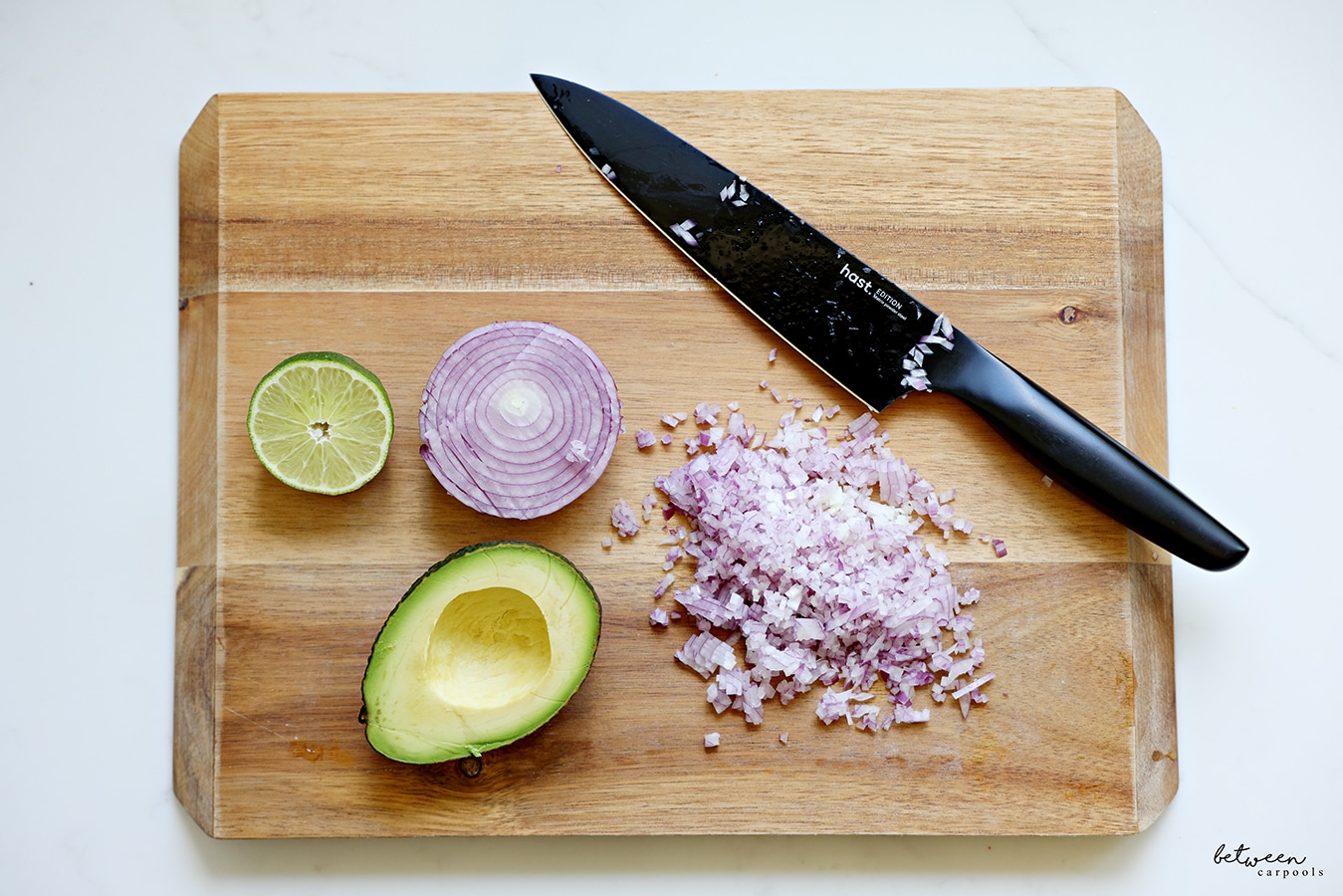 Want to know how to get your red onion to be so perfectly diced when you don't have perfect knife skills? See the trick in this post.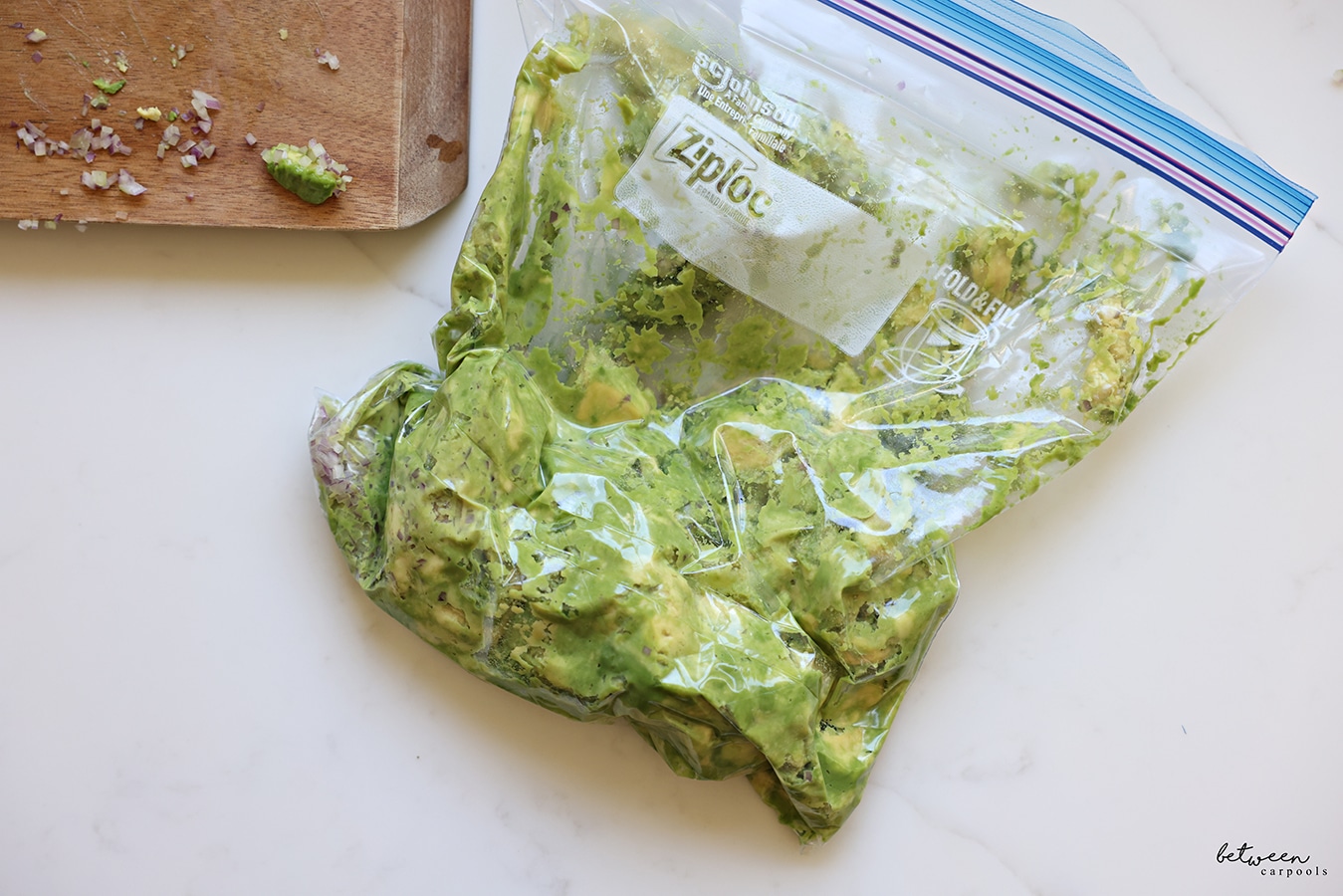 Combine all ingredients and smash until combined to your desired consistency. You can use a bowl, of course. Esti showed me this utensil-free method using a bag during our shoot!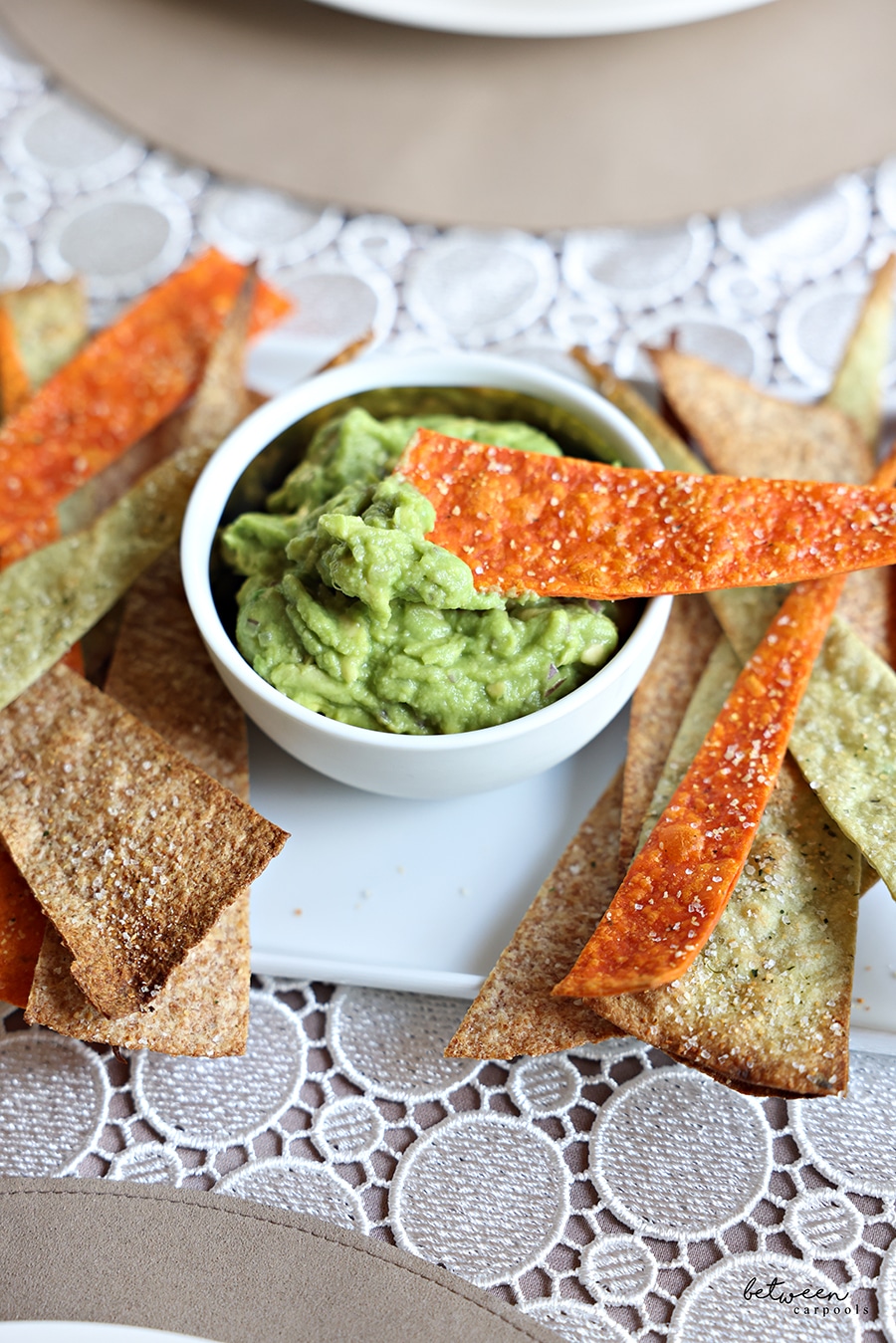 That's all. Serve your guacamole with the chips and it's just so pretty and satisfying. See this post for a tip on keeping your avocado green.
(P.S. If you're curious, we set this table using Adorn's Circlet Tablecloth and these Parfetty Chargers and Napkin Twists. They're machine washable and might just be our favorite Parfetty product yet.)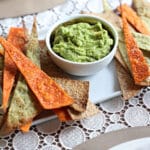 Print Recipe
Guacamole and Tri-Color Chips
Ingredients
1-2 whole wheat wraps

1-2 spinach wraps

1-2 sundried tomato wraps

Garlic Salt, for sprinkling
Guacamole:
3

ripe avocados

2

fresh limes

½

red onion,

finely diced

1

tsp

salt
Instructions
Slice wraps and place on a lined baking sheet. Spray with nonstick cooking spray and sprinkle with Garlic Salt. Bake for 5-6 minutes or until golden at the edges and crisp. Watch them carefully! Let cool and keep in a Ziploc bag (at room temperature, or freeze them if you're making them far in advance).  

Prepare the guacamole. Combine all ingredients in a bowl and smash until combined to your desired consistency (or if it's close to Yom Tov and you don't want to get anything dirty, add them to a bag and smash!). Add to a container, cover with plastic wrap and a lid, and keep refrigerated until ready to serve. 
FOR EXCLUSIVE CONTENT AND A PEEK BEHIND THE SCENES, MAKE SURE TO JOIN OUR WHATSAPP STATUS HERE. JOIN OUR WHATSAPP GROUP AND WE'LL LET YOU KNOW WHEN A NEW POST IS UP!