These pears are the perfect dessert to end your meal. Especially if that meal is in a chilly sukkah. It cooks in your Crock-Pot so it's hot and ready when you're ready to serve it!
Dessert in the sukkah at night needs to be a cozy affair, agree? And what can be more cozy, fall-ish and delicious than cooked pears, infused with cinnamon and date flavors? Not much. 
This recipe was born out of my stubborn need to find a dessert that would fit the bill. The requirements were clear: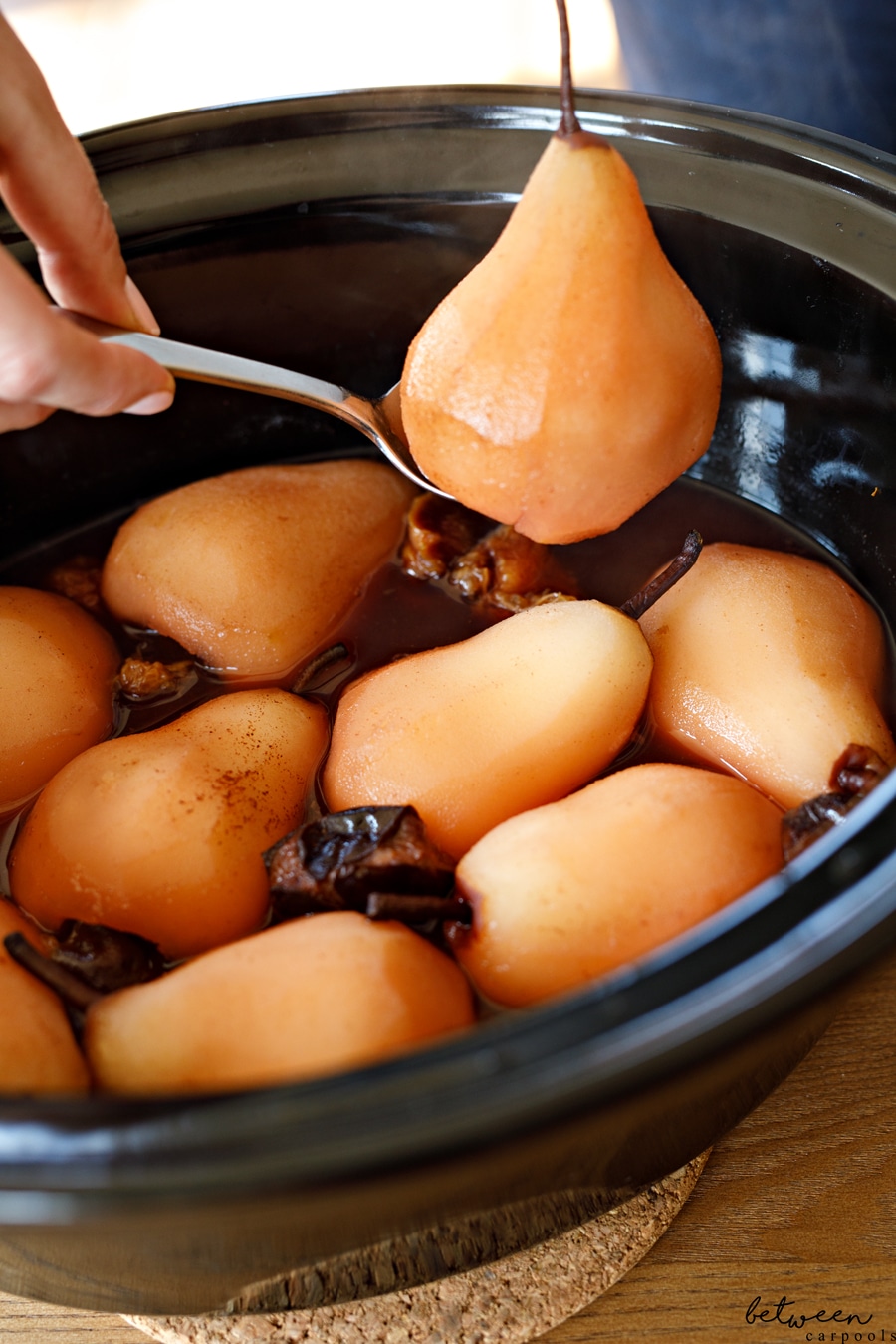 It needed to be easy and fuss-free. Fuss-free specifically meant that it did not require me to run out during the meat course to place something into the oven, so it will be ready on time. I wanted something forgiving, something that would be ready whenever we were ready, not the other way round.

It needed to be healthy, not too sugary, and delicious. Preferable with a fall flair. 

It needed to be delicious and light. 

It needed to be really hot when served. I didn't want something that would be lukewarm by the time it gets to the sukkah. 
The first requirement had me thinking. How can I achieve that kind of flexibility with a dessert? Then, a lightbulb went on! A Crock-Pot. That would be perfect. Most of us do not use our Crock-Pot on Yom Tov (only Shabbos, am I right?) So this is how this incredible recipe started forming in my head.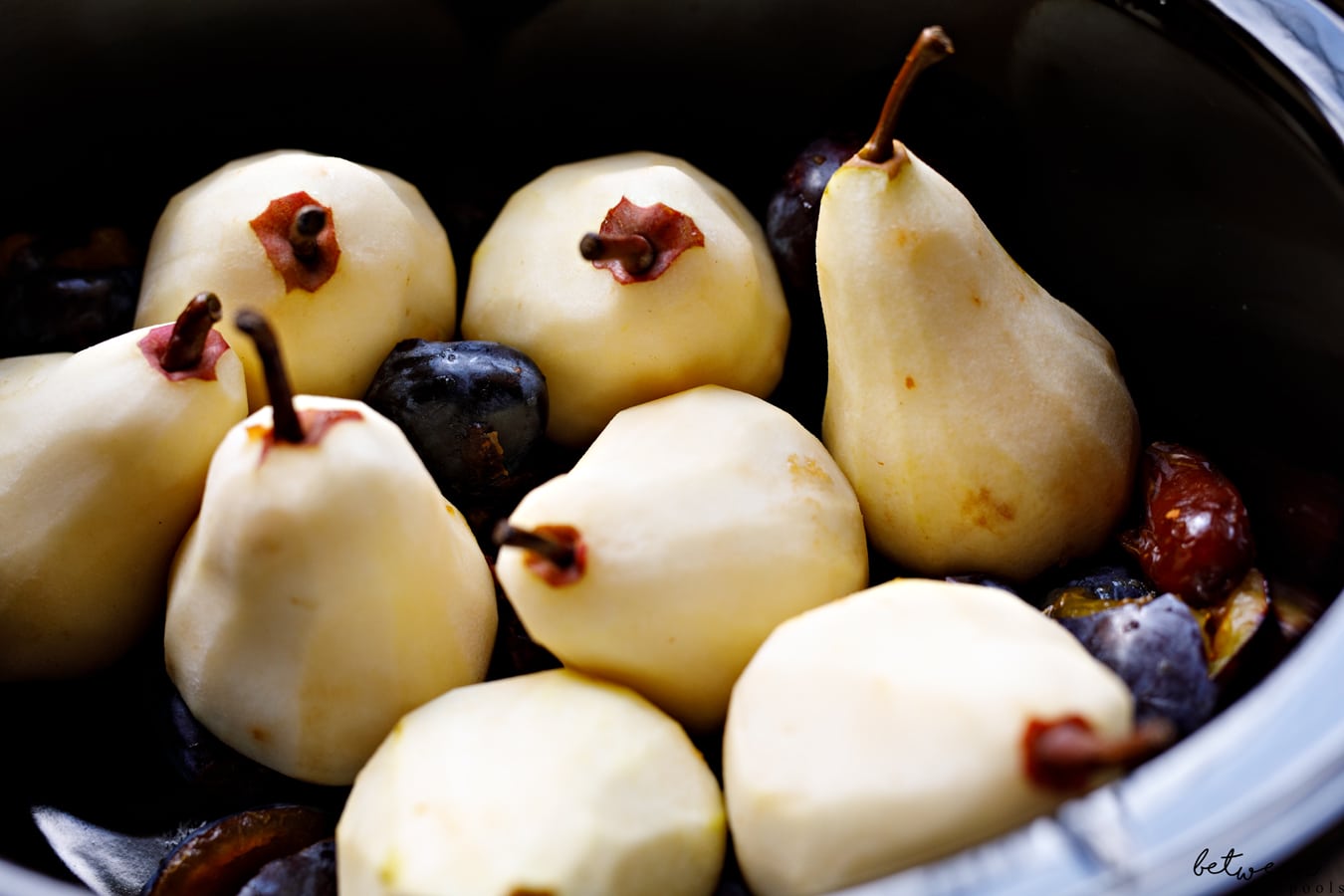 I picked pears, prunes and dates to achieve that fall feeling. I love the depth of the Crock-Pot, and how the pairs can stand up straight and still be covered. 
Best of all, the Crock-Pot would allow me to meet the last requirement to perfection. I'd bring the whole Crock-Pot insert to the sukkah and serve the pears in there. This will guarantee a hot dessert that will warm everyone up.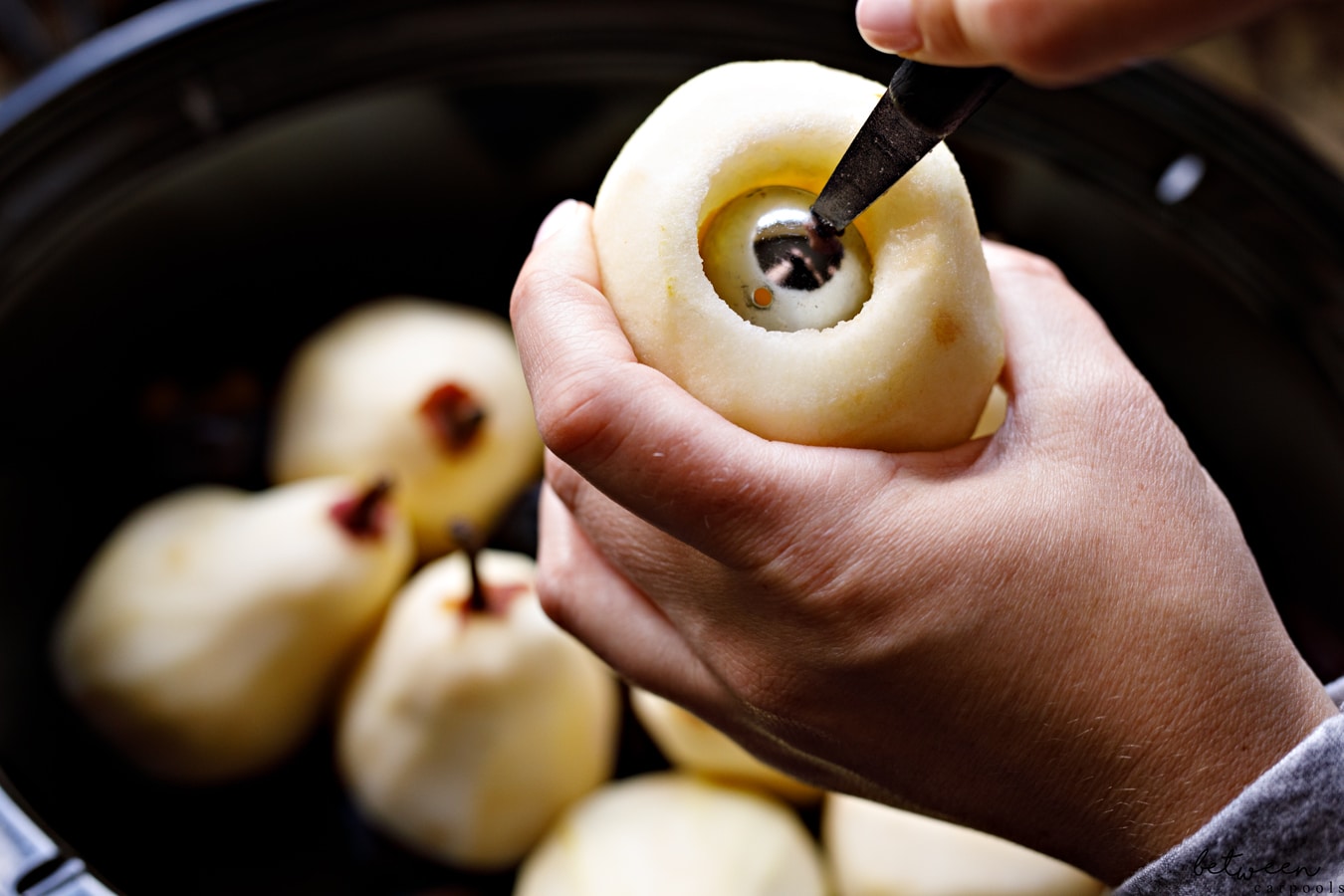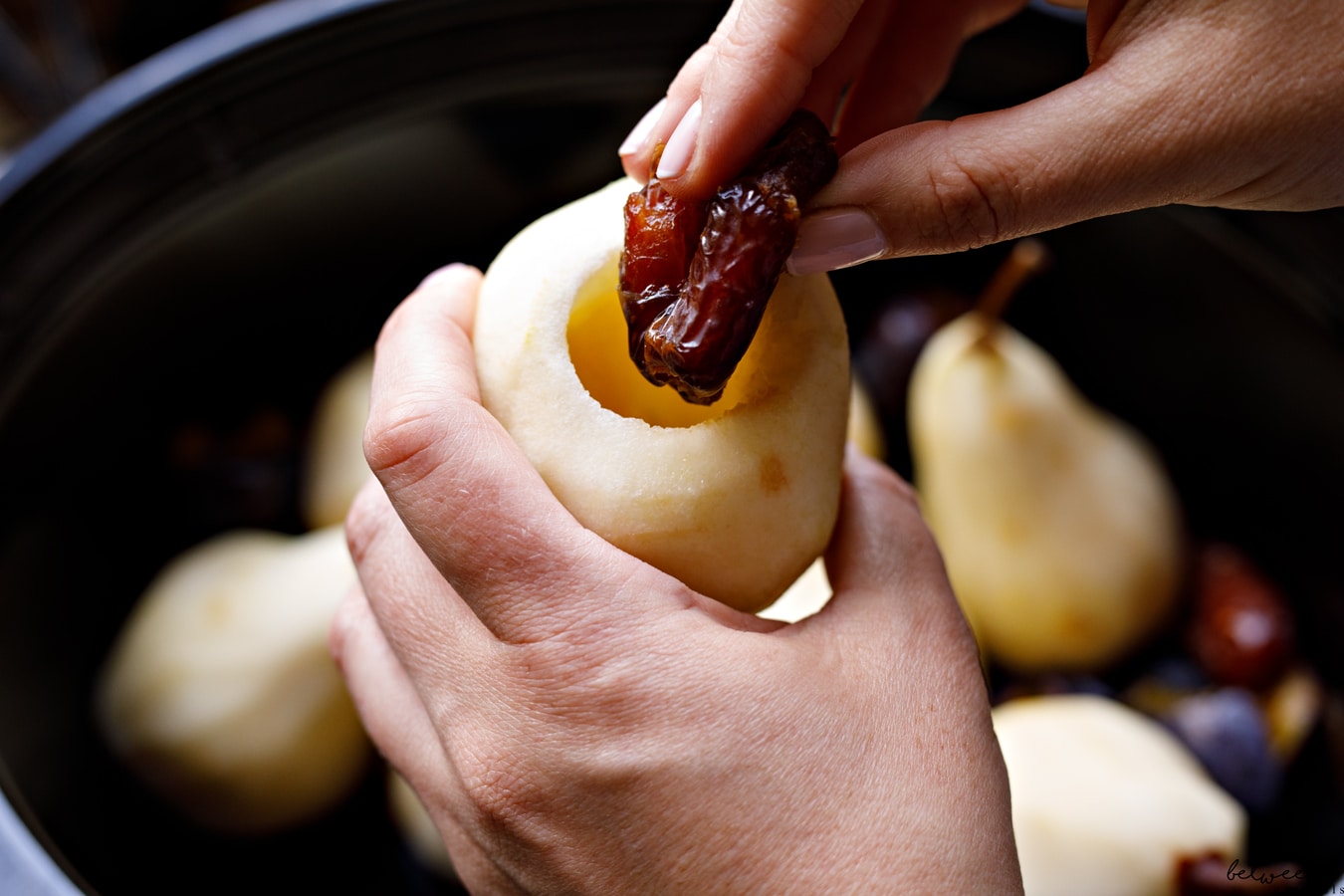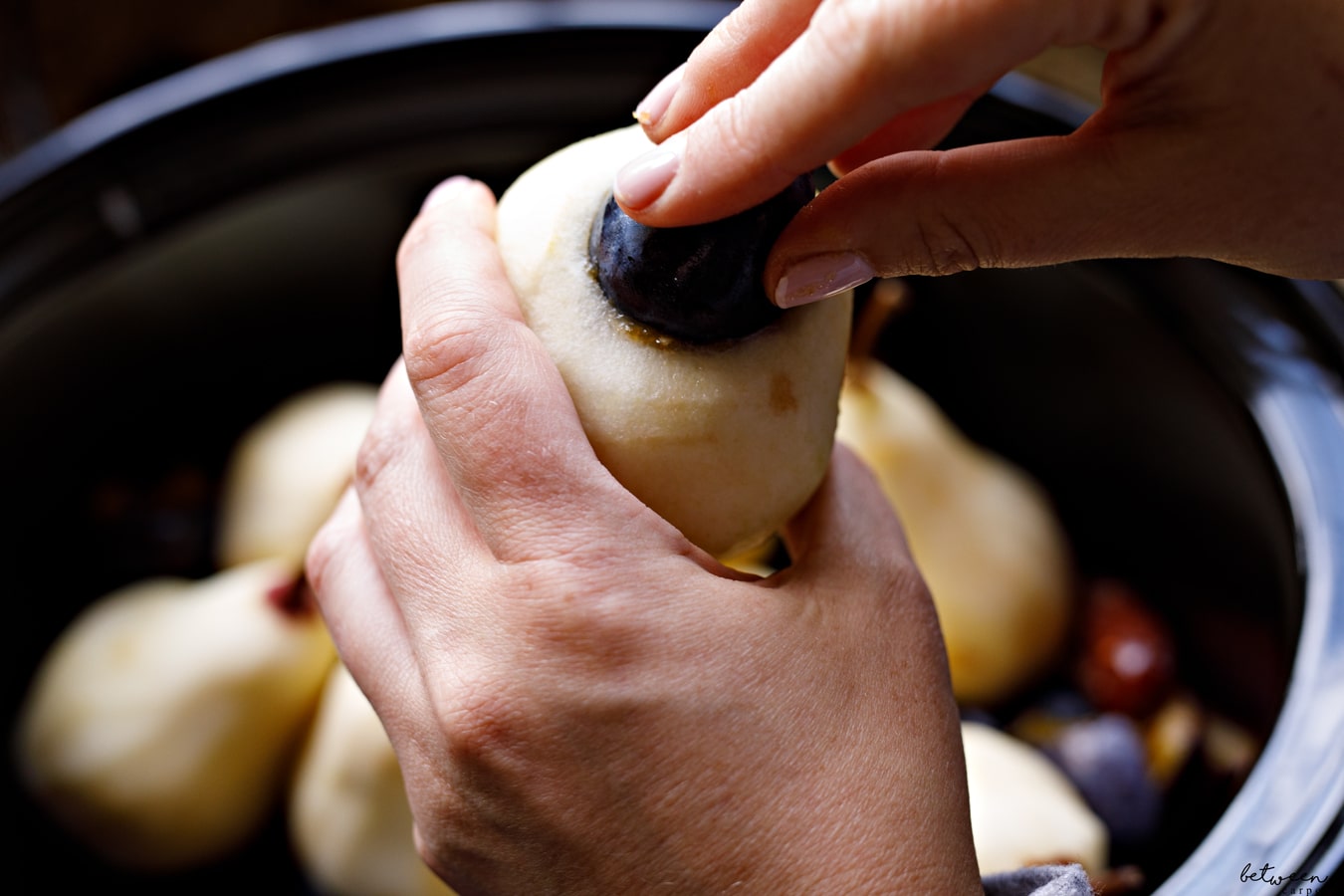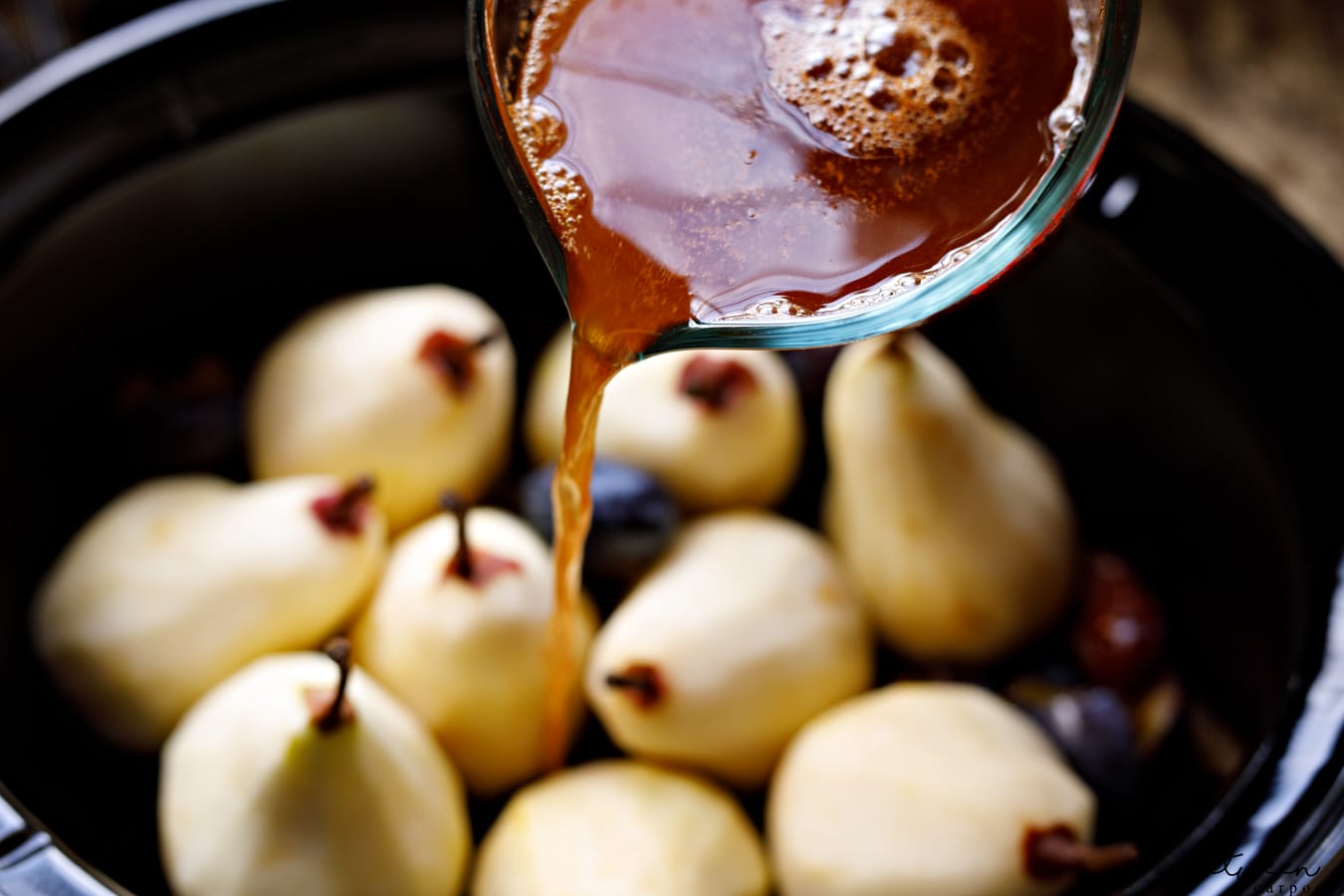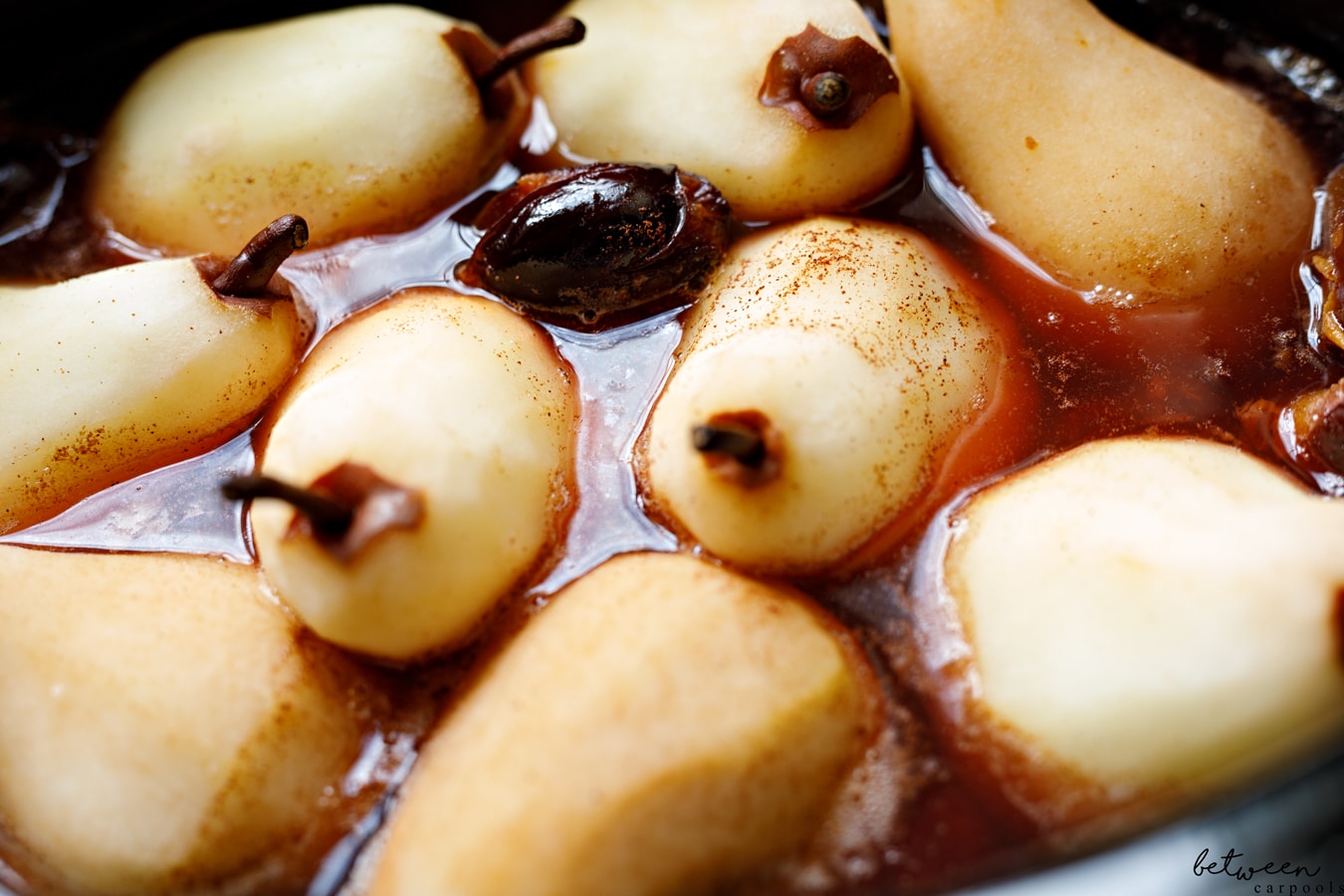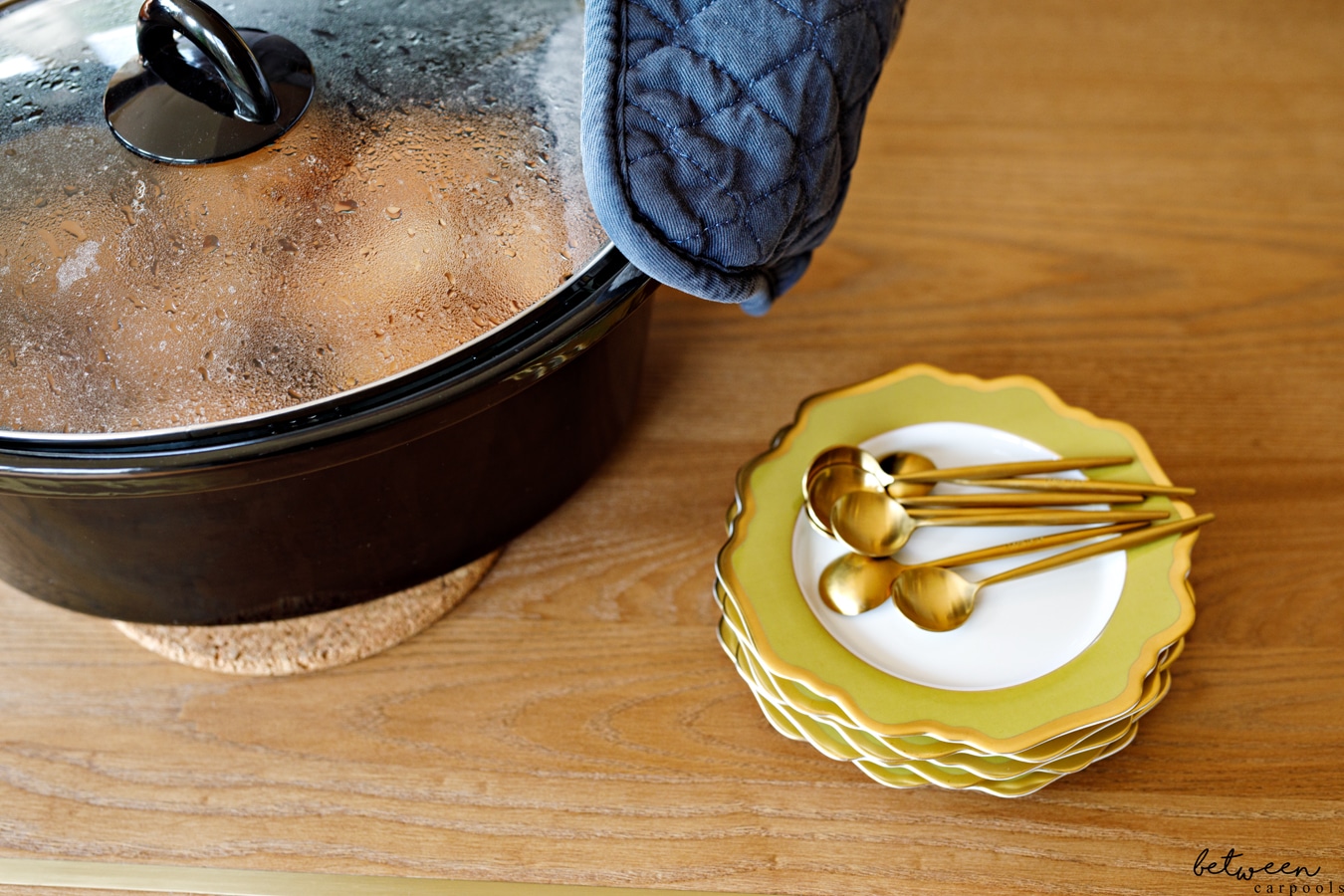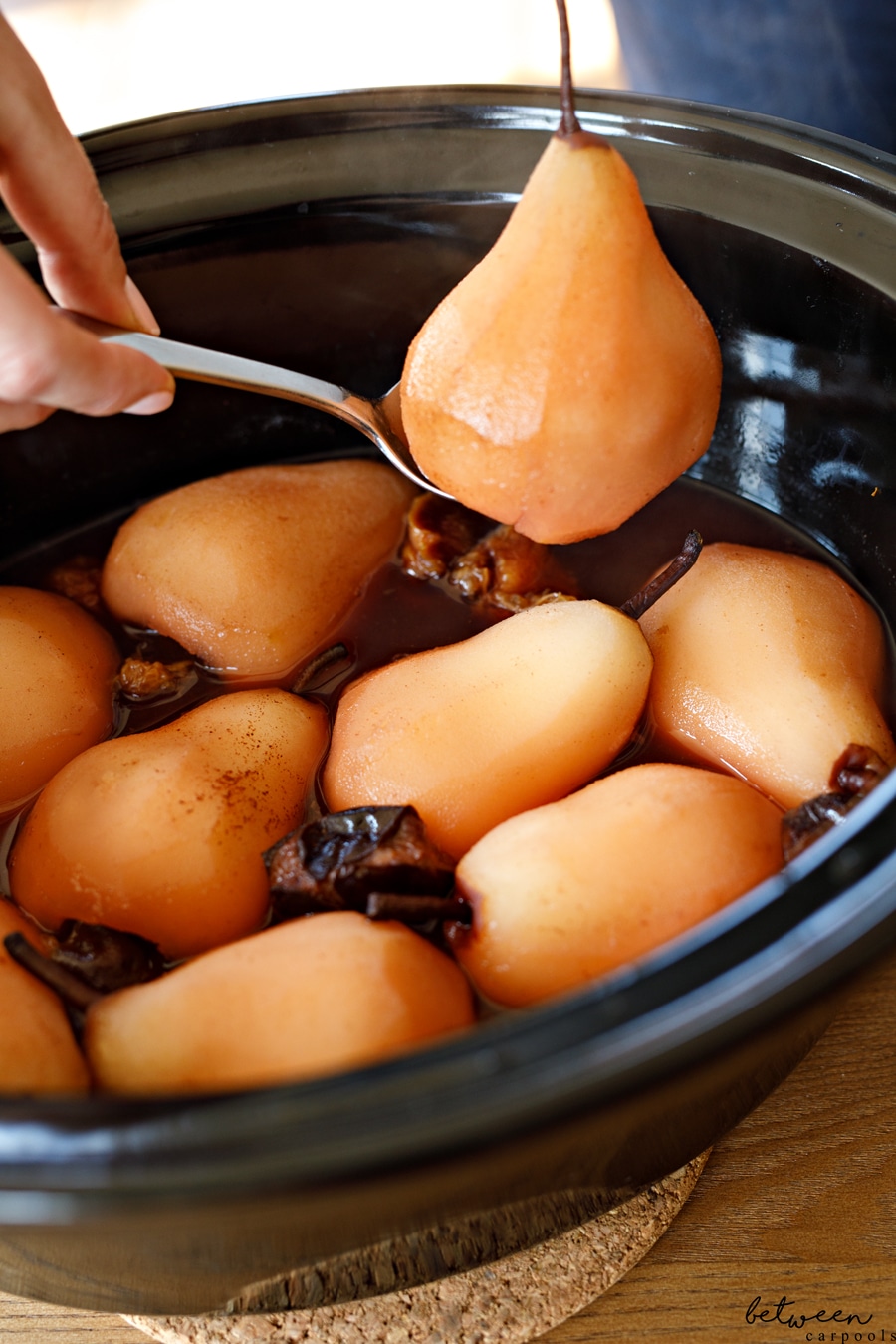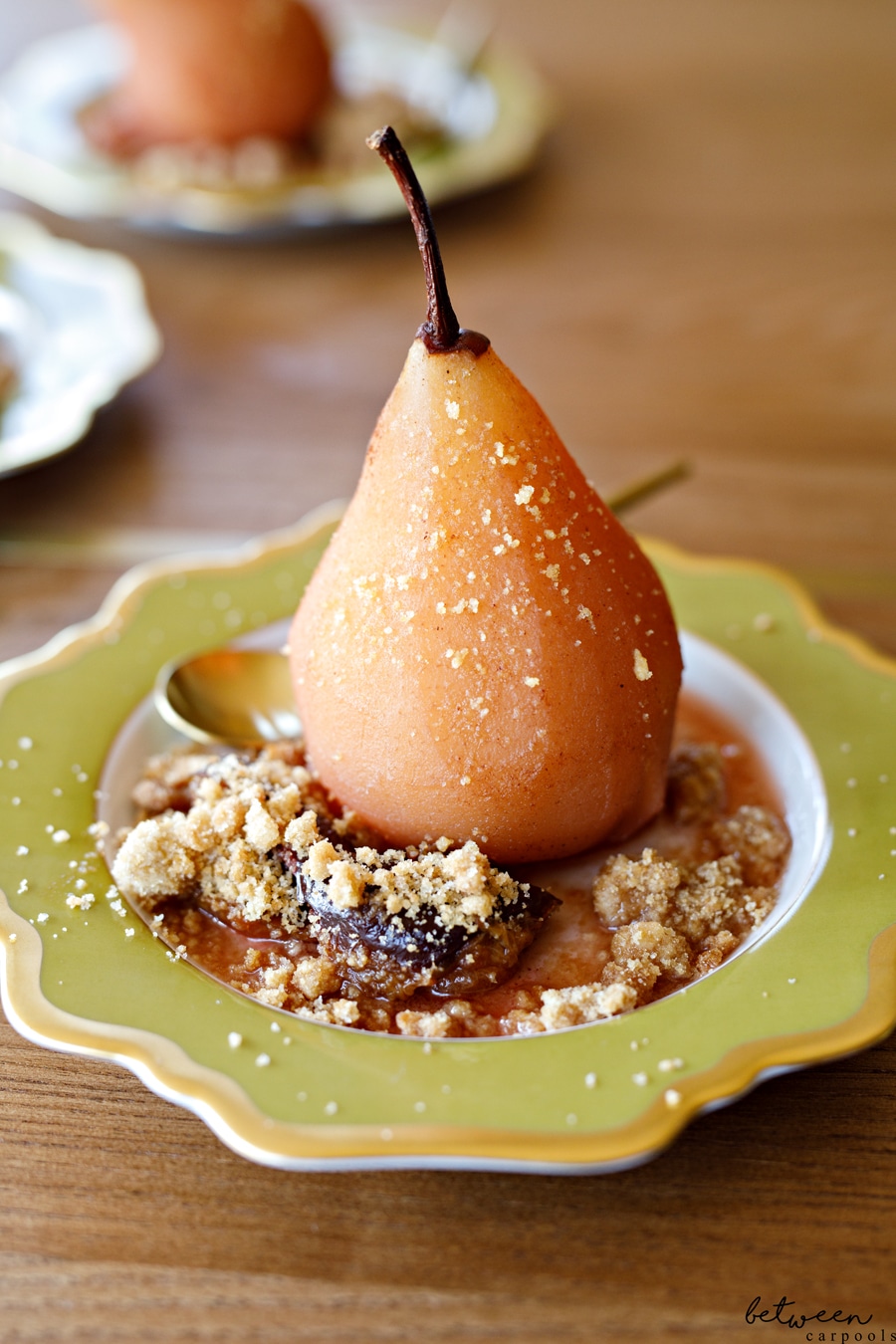 Hot Pears and Crumble
Ingredients
6-8 pears (I used some Bosc, some Bartlett and they all worked well)
15-18 mini fresh prunes (aka small plums), pits removed
8 medjool dates, pits removed
1 teaspoon cinnamon
¼ cup hot water
¼ cup maple syrup
1 cup apple cider or apple juice
Crumble:
1 cups chopped pecans (optional)
¾ cup flour
½ cup sugar
⅓ cup brown sugar
½ cup (1 stick) margarine, chilled
Instructions
Peel the pears carefully, taking care to keep the the stem intact. Using a melon baller scoop out the core of the pear, removing the pits and all the hard bits.
Stuff each pear first with a pitted date, then a prune. Place the pears inside the Crock-Pot right side up. Scatter remaining prunes and dates all over.
Dissolve cinnamon in the hot water. Add maple syrup and the apple cider (or juice). Pour mixture over pears and set to cook on high for about 5 hours or until tender. Once fork tender you can lower temperature to warm.
Prepare the crumble. Preheat oven to 350°F. Line a baking sheet with parchment paper. Combine pecans, flour, sugars, cinnamon, and margarine in a bowl and crumble all by hand. Spread on prepared baking sheet and bake for 18 minutes. Mix the crumbs from time to time.
With a fork break it apart, let cool. Store in an airtight container until ready to use.
To plate: Place about 2 tablespoons of the crumble on each plate. Top with a cooked pear and some of the cooked fruit. Top with some more crunch if desired. Serve immediately.