Your house will smell as if Mommy is home even if she isn't with Mommy's chicken
I will always make sure to have a tray of this chicken in my freezer for those last minute dinner emergencies, like when I suddenly need to spend the next day in New York or if I'm expecting a work day to run late. This is a great dinner that I pull out of the freezer the night before, and pop into the oven at 300ºF the morning before leaving. The first child to come home uncovers the pan (by then the chicken will be super tender) and raises the temperature by a bit so that the tops will brown. This dinner will make everyone happy, even if Mommy isn't home. Hence the name, Mommy's chicken.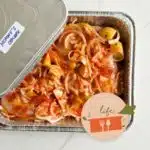 Print Recipe
Mommy's Chicken
Ingredients
4

chicken bottoms

(or 1 chicken cut into eights)

3

potatoes,

scrubbed and quartered

1

onion,

sliced into half moons

¼

cup

ketchup

½

cup

duck sauce

1

tsp

paprika

Salt and pepper to taste
Instructions
Place chicken bottoms in a pan. Arrange potatoes next to and in between the chicken pieces. Combine the sliced onion and rest of ingredients in a small bowl. Smear this mix over the chicken and potatoes. You can cover, label, and freeze at this point.

If preparing fresh, preheat oven to 350°F. Bake covered at for 2 hours and then uncover and bake for 30 minutes until browned to your liking.

If freezing: Defrost overnight in the refrigerator. In the morning, place in a 300ºF oven and bake all day, covered. About an hour before serving, raise temperature to 350°F and uncover. Bake until browned to your liking.