So, what are the girls preparing for Yom Tov? Here's a sample menu from 4 of us to help you brainstorm.
Leah Schapira's menu:

This is the type of meal I'll serve when I have a large crowd of 20 or more people. I don't make huge quantities of each item, I rather make the regular recipe and just have variety. For example, when I make a galette, I don't make a huge one, I make a regular 10 inch galette version. So not everyone gets, buts everyone likes different things.
Since some of my guests and family members don't eat fish, I always make sure to serve lots of salads so they don't just fill up only on dips with the challah.
The meals drag on long enough that we get hungry again by dessert. It's a couple of hours since we ate the starter. Obviously, if it's just my family I don't need to serve so many choices since I know exactly what they like.
Leftover short ribs turn into tacos for another meal. I plan full Yom Tov day meals, leaving nights lighter and one meal (like a night or day with no guests) that we can eat all the bits and pieces that are left over. I always have a backup in the freezer (like sliced corned beef, breaded schnitzels) that I can pull out if there aren't enough leftovers.
Pretzel Challah + Regular Challah
Starters & Salads:
Duo of Salmon – 2 (2.5-inch) squares
Israeli Salad
Quinoa Salad
Individual Lettuce Salad with Teriyaki Mushrooms in Wine Glasses
Dips – Chummus, Techina, Jalapeño Dip, Crushed Tomatoes

Plated Main: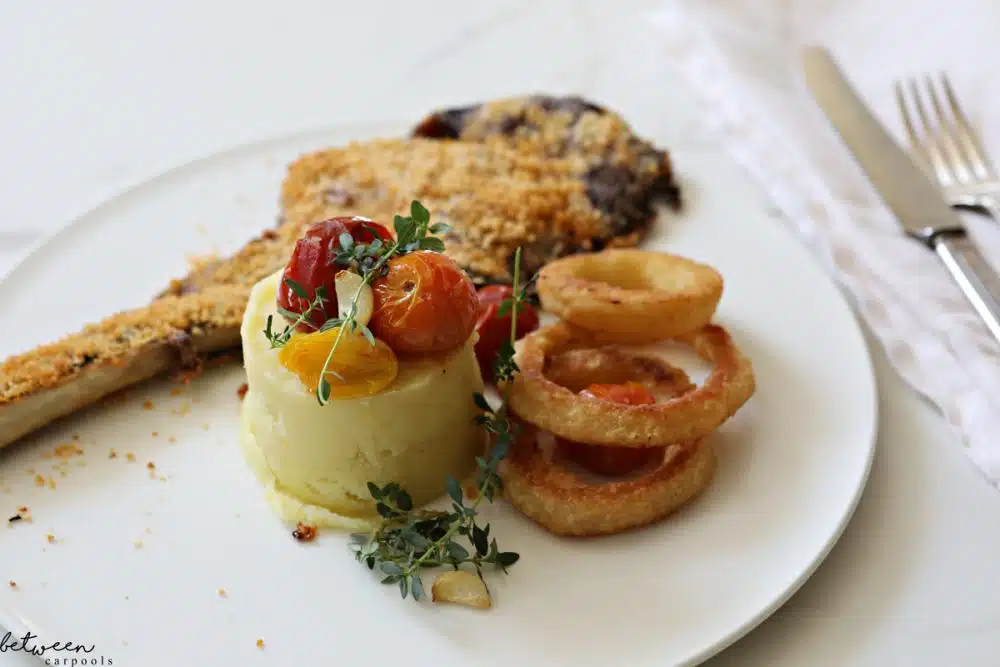 Beef Milanese or Short Ribs
Mashed Potatoes
Sweet Chili Green Beans

Middle of the Table:

Charcuterie Board (more schnitzel less salami)
Mango Steak Salad (without the steak) Recipe coming soon to BCP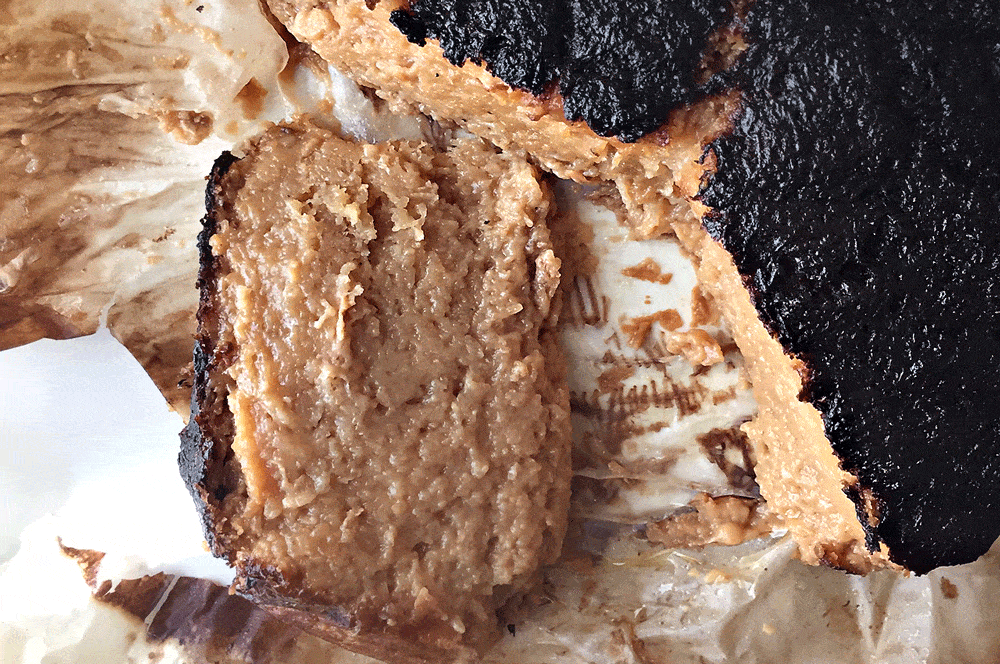 Shtreimel Kugel (optional)
Plum Galette (for those Hungarians that need a sweet next to their savory)

Dessert :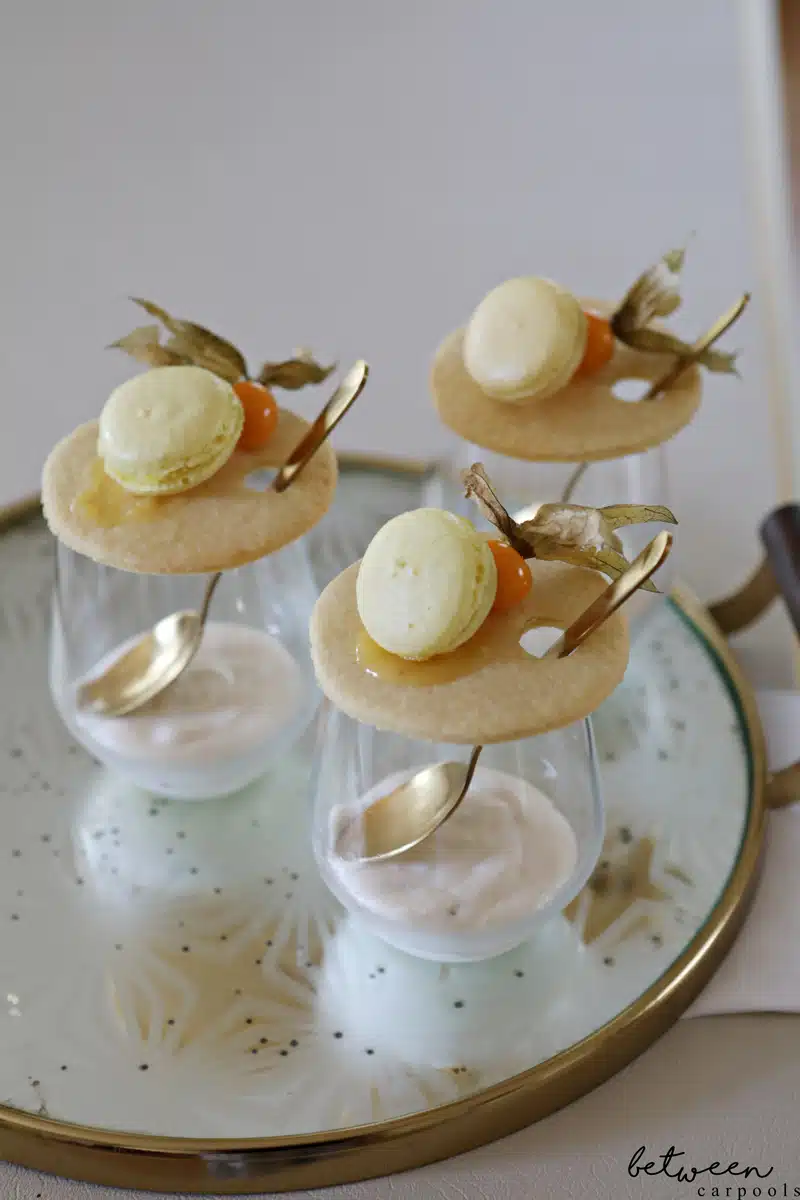 Passion Fruit Cups
Cut Up Fruit
Nuts and Popcorn
Renee Muller
Hi, it's Renee. Everybody I know has been asking me for my menu since August. And guess what, Yom Tov is around the corner and I don't have a menu set yet. Writing a menu is tedious, like packing. That's why I will always push it off until the last second… anyone with me?
Here is a sampling of a day meal and what I am planning to serve. I like to start with something small to dip the challah into while I am in the kitchen busy getting the starter to the table. The roasted garlic confit is perfect for just that. A few cloves for each guest are enough to keep them occupied until the real food arrives.
This Sushi Salad Tower is so incredible, I have been serving it all summer long and we all love it. It plates magnificently. A great way to start a meal.
Poached pears make for a nice palate cleanser and are refreshing as well. Add some pieces of beet to the cooking water for a glorious pink color with no affect to the taste.
There won't be a Yom Tov without a Standing Rib and Onion Crisps in Casa Muller. And Mrs. Muller doesn't mind one bit, especially since this main requires almost no prep whatsover. This BCP salad works really well with the meat and Esti's Smoked Potatoes give the plate just the right amount of color and flavor it's missing.
For dessert, I prefer Leah's fruit galette, while my kids prefer to have fun and create their own cone and pretend summer is still here.
Appetizer:
Challah and individuals warm Garlic Confit (Our Table page 148)
Intermezzo:
Poached Pear in Red Wine
Main: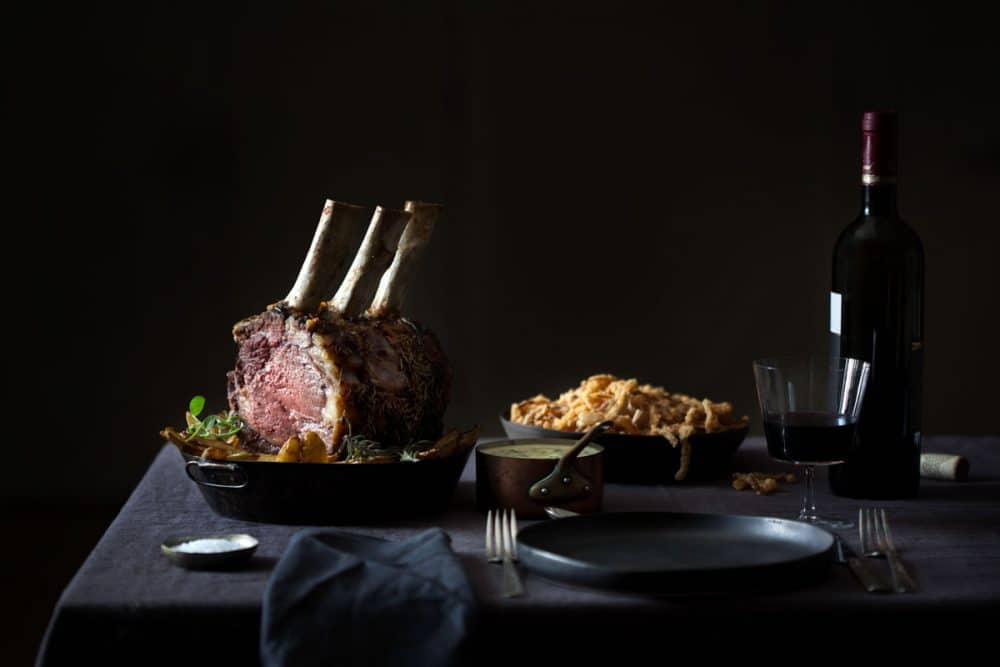 Standing Rib Roast with Onion Crisps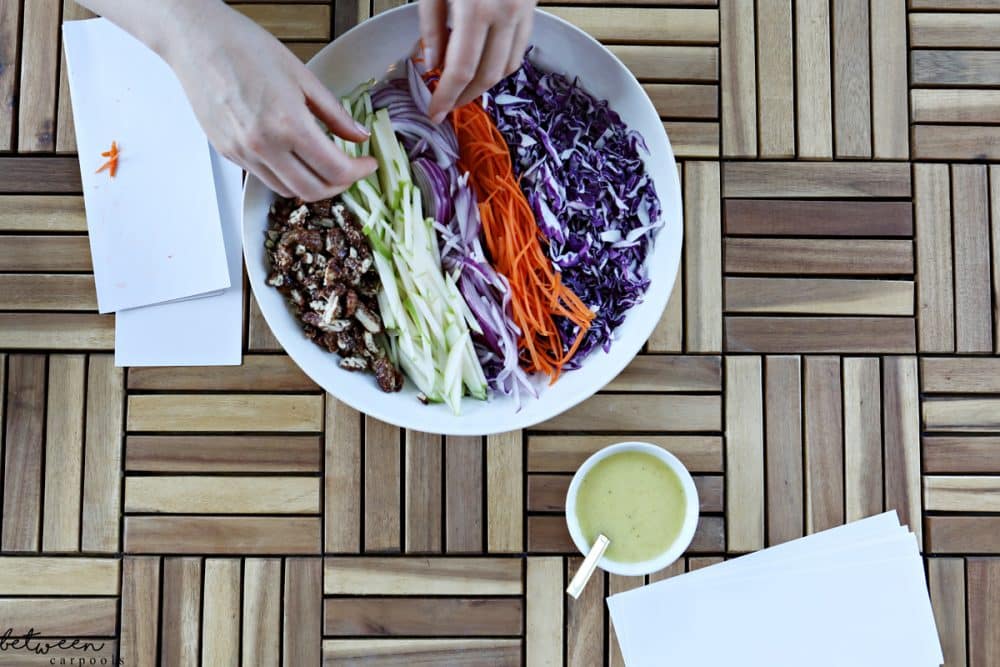 Exotic Red Cabbage Salad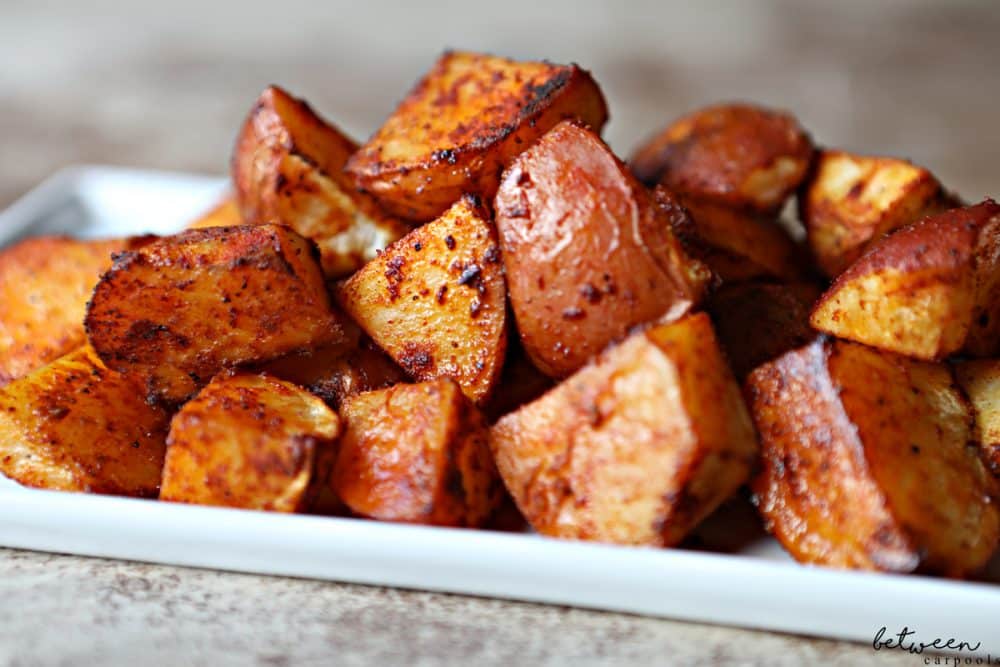 Smoky Red Potatoes
Dessert:
Summer Fruit Galette for the adults
Ice Cream Cones for the little ones
Esti Waldman:
So here's a little peek into what my culinary life has been like lately. We need to back up a couple of years to the slow and steady leak from my laundry room into my kitchen. Fast forward over the renovation plans that kept changing (they say it all starts with a doorknob…) to the partial demolition to move pipes to the full demolition to do all the structural work and then finally all the details that result in a new supersized kitchen that can finally work the way I need it to. I have not had a kitchen for the past 3 months. Toaster oven, griddle, single electric burner and a couple cabinets from the old kitchen are my ad hoc kitchen in my basement. Thank goodness I have a kitchen at my studio! Too bad I only have a couple of pots that weren't packed up! So, with just the bare basic tools, all pre-Yom Tov cooking has to be done at the studio. Send up a little prayer for me that my kitchen will be functional, if not completely finished, as scheduled the day before erev Yom Tov. And then, even though I really prefer not to cook on Yom Tov, it'll definitely be more fun to do so in my shiny new space with the GIANT FRIDGE!
Also, as I mentioned last year, we only have two courses at each Yom Tov meal. Definitely makes the planning easier. Though, maybe with that GIANT FRIDGE…
So, without further ado, my simple menu:
Challah (bakery for the family, my mom's amazing whole wheat for me)
Mushroom Barley Soup (my recipe is stupid easy – and my kids are great mushroom peelers)
Brisket with Tricolor Smoked Potatoes, Roasted French Beans,
and Renee's Mango Salsa (the salsa will be making an appearance more than once this Yom Tov. We're obsessed.)
Plum Crisp from one of the Made Easy books
Victoria Dwek
When it's just my family and not company, I just need to make sure my meals have the following components so everyone's happy: something meaty, something girly/healthy, and something kid-friendly. While it's way more fun to make lots of gourmet dishes, I really need to just follow the formula that keeps my family happy.
On Yom Tov, if I'm not having company, I'll serve less dishes because there's so many meals. On Shabbat, I serve mazzeh in the night and the day, but I'll leave the mazzeh for the day meals on Yom Tov and pick a different finger food, just so we don't get tired of the same things.
Lunches are usually very easy and simple: Mazzeh, salads, and one hot main dish. My mazzeh includes a different assortment every week, but there's always lehme b'agine, kibbe, and chicken nuggets. Other mazzeh includes meat sambousak, little franks b' blanks (I use foccacia, not puff pastry dough), mini knishes, and then I can also include my own additions like falafel cigars, or something with pulled beef.
First Night, Second Days:
Assorted Spring Rolls (maybe Duck Spring Rolls, Avocado Spring Rolls, and Pulled Beef Spring Rolls or Tacos, with dipping sauces)
Club Roast with Bearnaise Sauce
Roasted Portobello Mushroom & Asparagus Salad
Rice & Keftes
Dessert: Apple Crumble Sundaes