One week. 2 adults. 5 kids. 21 meals. No kitchen. Seriously?
Yes, seriously. Hotel cooking is doable, all you need is a bit of planning and a sink. Also a sandwich maker. Maybe an electric burner. Preferably a hot water kettle.
Ok, let's slow down.
Going away to some hotel in Yehupitzville? Here's what you do.
There are a few ways to cook in a hotel room. Ideally, I would plan to pack all of these electric appliances, but, if you can't do that, simply take your pick.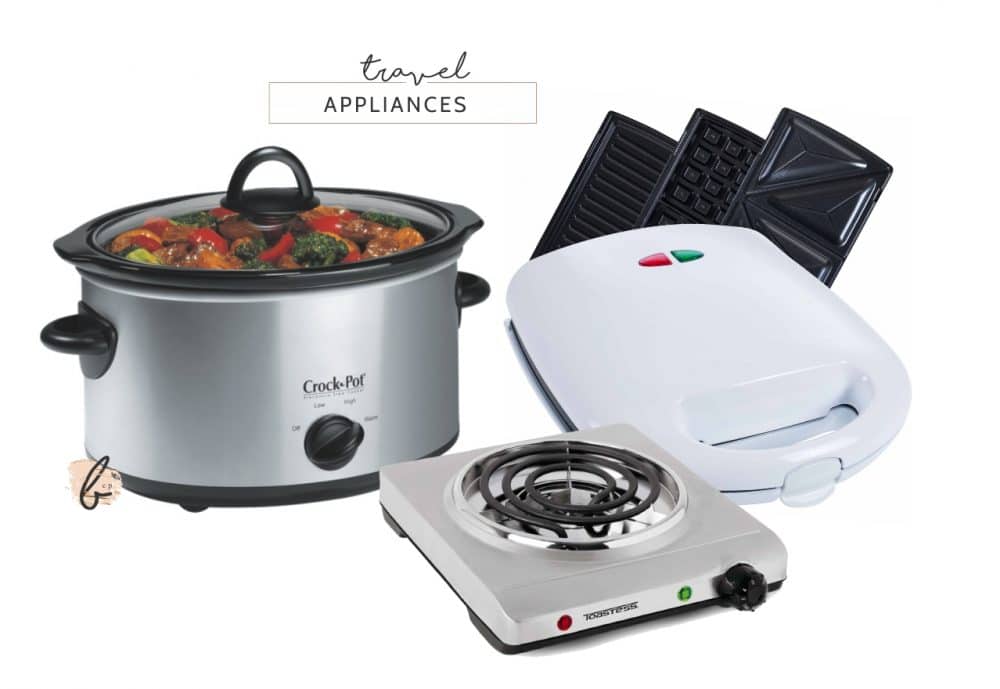 Sandwich Maker: This is the best small appliance to use to satisfy everyone's hunger, quickly (even better: bring along two, for dairy and meat). My sandwich maker also comes with a waffle press, which adds another great breakfast option.
For Dairy: Prepare grilled cheese sandwiches and paninis; warm up frozen blintzes.

For Meat: Warm up grilled chicken and burgers; grill veggies and hot dogs.  
Electric Burner: Having an electric burner is literally like having a kitchen. All you need is one pot and one frying pan and your options are endless.
For breakfast: Prepare eggs and omelets. Pancakes. French toast.

For dairy dinners: Make a stovetop mac and cheese or seared salmon.

For meat dinners: Fry chicken, prepare rice, prepare minestrone and other soups.
Crock-Pot: This is very useful in apartments where there is no daily maid service. (It can get a bit tricky in a typical hotel room; I wouldn't leave a Crock-Pot alone all day knowing the staff will be coming and going.)
For complete dinners, set up a few ingredients in the morning and come back to a delicious ready-to-eat meal (see recipe idea below).

Warm up prepared soups.
The Crock-Pot Recipe Everyone Will Love
1 bottle of beer (any variety will do)

1 cup brown sugar

4-8 kielbasa sausages (or as many as you need)

32 oz of sauerkraut, drained

Simply place all the above ingredients in a Crock-Pot. Cook on low for 8-10 hours or on medium-high for 4-6 hours, stirring once at the beginning to get the sugar to melt. Serve in hot dog buns.
What to Pack and Prepare Ahead.
Be organized and plan a menu that works.
Non-food items to pack:
Can opener

Plasticware

Plastic cutlery

Hot cups

Regular cups

Paper towels

Garbage bags

Disposable tablecloths

Windex

Gloves

2 mixing bowls

Whisk

Frying pan

Pot

A few regular forks

A few good knives

Cutting board

Dishwashing liquid and sponge

Straws
Food items to pack:
Bread your kids enjoy (buy in advance, freeze)

Small baguettes (freeze)

Cheeses

Small ketchup

Small mayonnaise

Salt and pepper

Spices (put a bit in small Ziploc containers)

Oil, if planning on frying

Maple syrup for pancakes

Coffee, tea, Splenda, sugar

Snacks, snack bags

Juice boxes

Instant Ramen noodle soups (such as Tradition Soups)

Cream cheese

Peanut butter

Canned tuna, hearts of palm, olives, pickles

Cereals

Milk (freeze)

Yitzy's Pancake Mix (OR prepare your favorite pancake mix minus the eggs and milk in a resealable bag and label what liquids are to be added. Pack along a bowl and whisk to prep on site)

Frozen blintzes

Frozen hot dogs/burgers and buns

Frozen meats for Crock-Pot dinners and/or beans

Vacuum-packed salmon

Eggs (or buy locally)
Prepare in advance:
Prepared soups: Freeze in a 9- x 13-inch baking pan. Once frozen, vacuum pack (with a vacuum sealer) and return to freezer. Once in the hotel, let thaw while you are out and rewarm once you get back to the hotel. You can prepare hearty and filling soups with pasta or meatballs in them so they comprise a meal on their own.

Prepared and frozen chicken cutlets (either fully cooked or ready to fry)

Prepared and refrigerated grilled chicken

Marinated roast that's ready to place in the Crock-Pot to cook all day