Oyster steak is tasty, chewy, and juicy meat. Now you can serve them in this salad for your first course. 
Splendid on the plate and sumptuous in the mouth, this appetizer is a must for one of your upcoming meals! This was inspired by my family's love of oyster steak. I was looking for a way to incorporate the steaks into an appetizer dish. Turned out to be a true winner all around!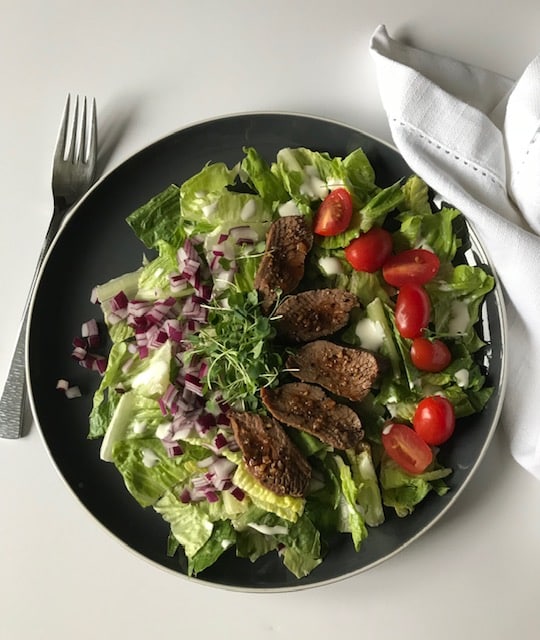 Oyster Steak Salad with Honey Soy dressing
Ingredients
2 oyster Steaks, approx 1 lb each
¼ cup oil
¼ cup honey
¼ cup soy sauce
1 tbsp Montreal Steak seasoning
1 garlic clove
Dressing:
½ cup mayonnaise
2 ½ tbsp honey
2 tbsp soy sauce
2 tbsp water
1 tbsp vinegar
½ tsp salt
Dash of pepper
1 clove garlic
Salad:
Romaine lettuce
1 red onion, sliced thinly
Box of grape tomatoes, halved
French Fried onions, optional
Instructions
Rinse and place the oyster steaks in a baking pan.
In a mixing bowl, combine the oil, honey, soy sauce, Montreal steak seasoning, and garlic.
Pour marinade over meat and let marinate for at least 10 minutes.
Broil for 8 minutes on each side, turning partway through. Do not slice until ready to plate and serve.*
Meanwhile, prepare the dressing. In a container, Combine all ingredients. Blend or shake well in the container.
To serve, plate the lettuce topped with red onion and grape tomatoes.  Drizzle the dressing over the vegetables. Top each portion with 3-4 slices of Oyster Steak. Optionally, top with French Fried onions.
*It's best to broil the steaks close to serving. But it's still perfectly fine to broil in advance and keep warm on a Crock Pot or blech. Always slice only when about to serve to retain the moisture.