We asked Efrat what her family loves and what her fans love…and discovered one more little culinary secret.
Recipes by Efrat Libfroind
Everyone has ogled over photos of Efrat's creations. But which of those dishes does her family ask her to recreate over and over? And which ones does her fans love the most? We called Efrat to find out.
BCP: What is your family's favorite recipe from your cookbooks?
My kids love these potatoes. They beg me to make it and when I don't have time, one of them peels and chops the potatoes, another peels and chops the sweet potatoes, and I make the sauce. It's a lot of fun.
Two-Tone Potato Bake
"This is what you brought?" Racheli asked me, barely concealing her disappointment. When she heard that I was bringing a dish to the party, she envisioned something special—not just a potato and sweet potato dish that anyone could make.
Unflustered, I held back a smile, waiting for her to taste the dish. Sure enough, she changed her mind completely after the first bite. Thanks to the onion soup mix and the heavy cream, this dish has a surprisingly wonderful taste.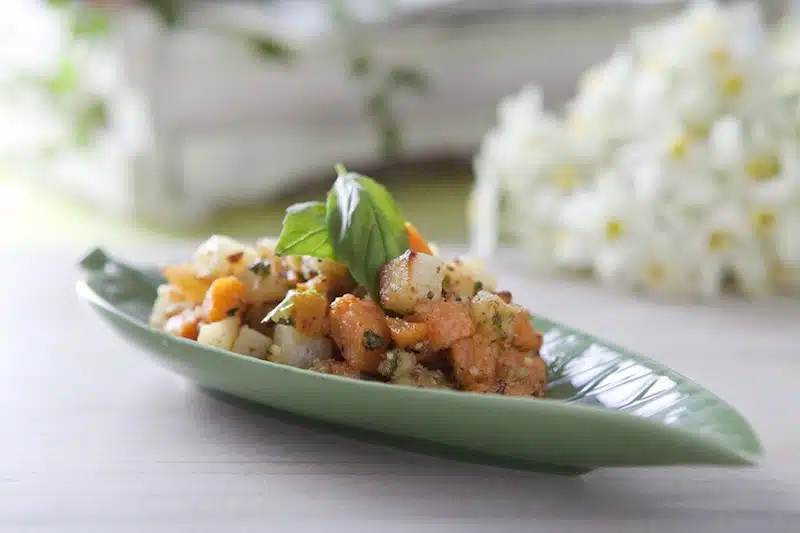 Two Tone Potato Bake
Ingredients
8 medium-sized potatoes
2 medium-sized sweet potatoes
½ pound pumpkin (optional)
2 tablespoons olive oil
¼ cup boiling water
½ teaspoon salt
1 pinch black pepper
1½ cups heavy whipping cream
3 tablespoons onion soup mix
½ cup grated cheese
Instructions
Preheat oven to 400°F. Peel vegetables and cut into small cubes. Place in a baking dish and add olive oil, water, salt, and black pepper. Bake covered for about 1 hour.
Mix the heavy cream with the soup mix. Remove pan from oven and uncover. Drain any liquid that may have accumulated during baking. Pour the cream mixture over the vegetables and sprinkle with grated cheese. Bake uncovered for another 15 minutes.
Note: For a pareve version of this dish, substitute pareve milk for the heavy cream and omit the grated cheese.
BCP: What recipe do you think is the most popular from all your cookbooks?
I think this trout dish is the most popular because it's easy. All you need to do is season the fish; it's special because of the beautiful presentation. You don't need to work too hard to make it look pretty.
Show-Stopping Fillet of Trout
This is one of my signature recipes. The results are stunning, and achieved with minimal effort. Once you know how easy it is, you can't resist making it. All you need is a muffin pan and fresh, skinless fillet of trout. Then stand back and watch as this dish virtually makes itself.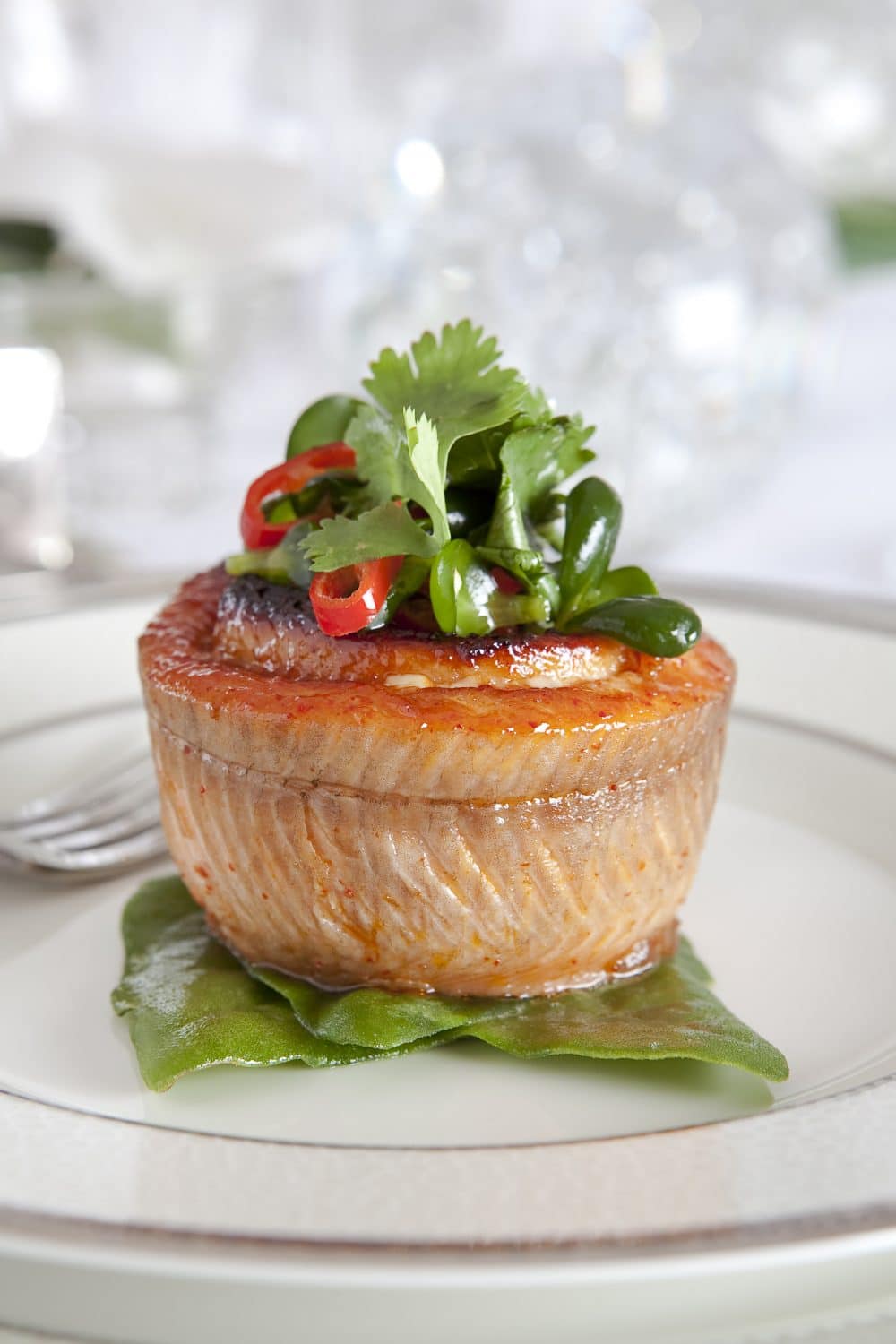 Show-Stopping Fillet of Trout
Ingredients
8 slices fresh fillet of trout (4 fish, preferably small)
6 tablespoons olive or canola oil
3 garlic cloves, crushed
1 teaspoon paprika
4 tablespoons soy sauce
2 tablespoons honey
3 tablespoons tomato paste or ketchup
½ teaspoon salt
Instructions
Preheat oven to 400°F. Freeze fish for half an hour before slicing. Cut each fillet in half lengthwise. Mix sauce ingredients and marinate fish in the sauce for half an hour (you can marinate the fish for up to 24 hours).
Arrange a strip of fish along the wall of a muffin cup, continuing with another strip in a spiral fashion until the entire cup is full. Bake for 15 minutes until nicely golden.
Note: For a colorful presentation, prepare a small salad from fresh coriander and thin strips of hot pepper. Season salad with a bit of olive oil and salt and place a small mound of salad on top of baked fish.
BCP:  Is there a dish you make that's not really a recipe but you make all the time? Something that your family loves but you couldn't put in a cookbook because it's either embarrassingly simple and/or uses ready-made or store-bought ingredients?
Chicken with BBQ Sauce. Though you can use your favorite sauce, I always, always, have this BBQ sauce in the fridge or freezer. It has no preservatives and everyone loves it. It's good for meatballs. It's great for chicken on the bone and cutlets. And of course, you can eat it with French fries as a dip.
To prepare the Chicken with BBQ Sauce, take chicken breast, seasoned it with crushed onion, a little oil, and paprika. Then pour sauce on top. Bake at 400ºF (200ºC) for 12-15 minutes. For chicken on the bone, season the same way. Pour the sauce on top. Cover and bake for 375ºF for 1 hour. Then lower temperature to 350ºF, uncover, and bake an additional 30 minutes. It's a winning recipe. Everyone loves that dinner.
Award-Winning BBQ sauce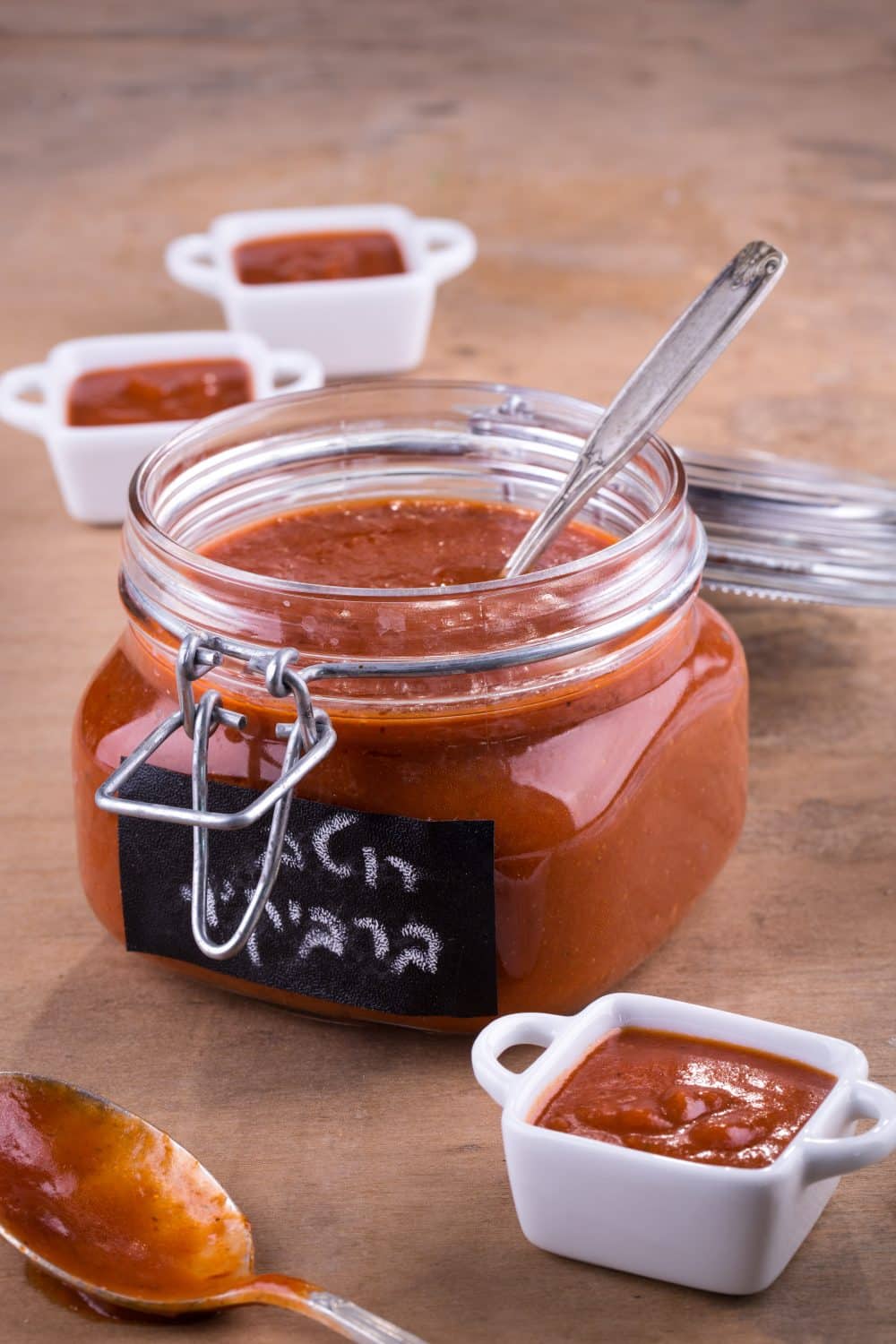 Award Winning BBQ sauce
Ingredients
4 tablespoons olive oil
2 red onions, finely diced
4 garlic cloves, minced
1 cup tomato sauce (need to check if its paste or sauce)
1 tablespoon mustard
1 tablespoon brown sugar
2 tablespoon soy sauce
2 tablespoons honey
2 tablespoons silan (date honey)
½ red chili pepper (seeds removed), finely diced
Dash salt and pepper
Instructions
Saute onion in oil in a large flat skillet until golden. Add remaining ingredients and cook for 10 minutes over low heat.
If the sauce is too thick, then thin it with a couple of tablespoons of boiling water. Remove the pot from stove and strain.
Note: This can be frozen for up to 3 months.
What are the Susie Fishbein Family Favorites? Click here. 
And don't forget to try Efrat's easy no-bake cheesecake recipe.
About Efrat Libfroind:
Renowned pastry chef Efrat Libfroind is the author of "Kosher Elegance" and "Efrat Libfroind Entertains." As a graduate of elite European cooking schools, her food and pastry designs are one-of-a-kind and award-winning. She is also the owner of a French pastry company and publisher of the Israeli culinary magazine, "Buffet." In the United States, her recipes appear regularly in Ami Magazine's Whisk. Her courses, where she teaches her craft, are sought after, both in Israel and the U.S.