This might be just the right motivation you need to create space and order. Let's get going! Our 30 Day Challenge begins this Sunday!
It's been a long summer, hectic September, and everything is a bit out of control. We're ready to gain some tiny bit of control together! Are you ready for the 30 Day Declutter challenge??
Why declutter? 
The less things around, the easier it is to clean, maintain, and enjoy the space you live in.
Regardless if you have a 100 meter apartment or a 5,000 square foot house, decluttering will make a difference to your life. If you easily toss things into the garbage, then this challenge will be easier for you. If you have a hard time parting with things, no need to worry! We've got a post to help prepare you for this challenge. Read it here.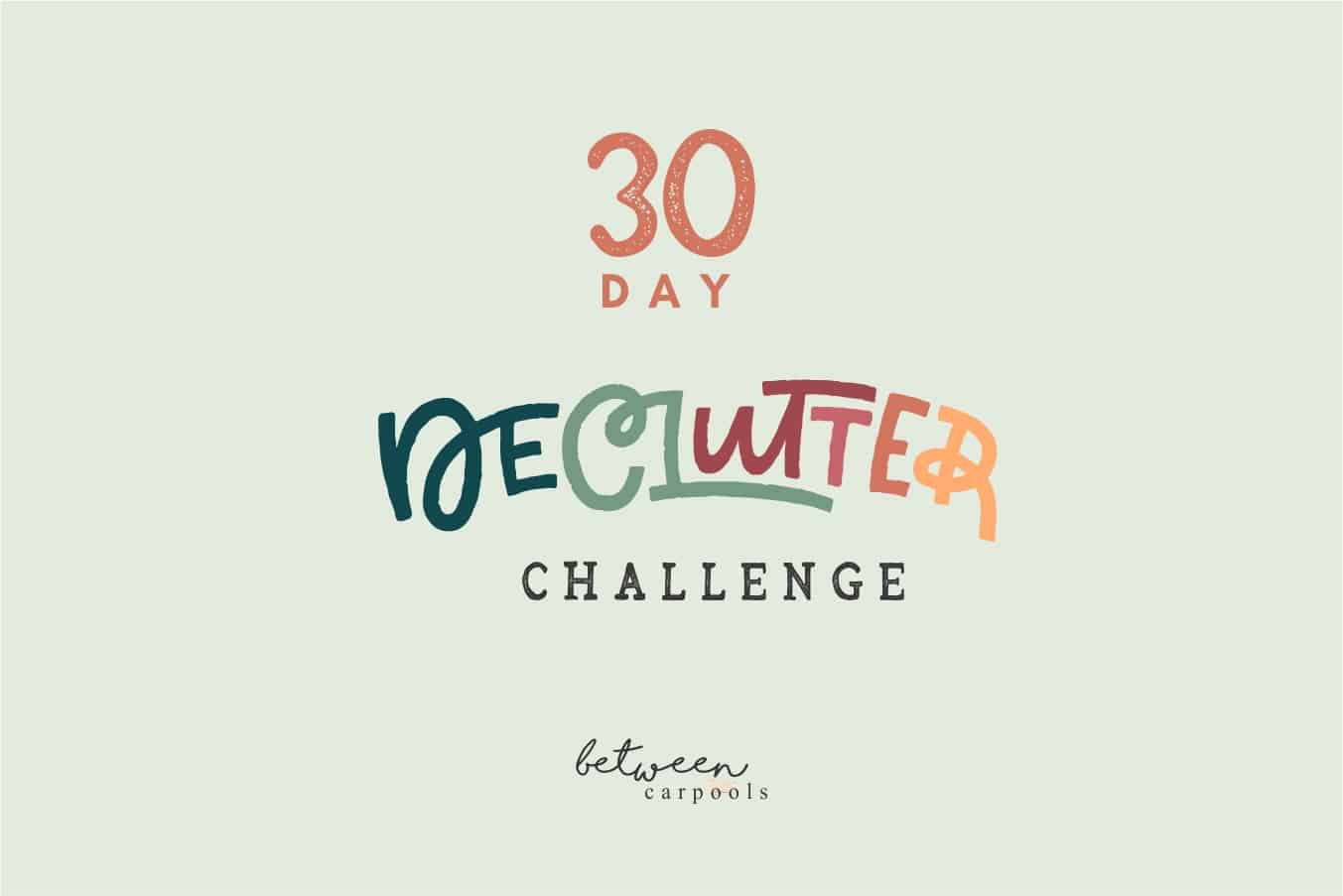 Join us as we declutter our homes day by day. Some days it will take 5 minutes, other times 60 minutes. We plan on working quickly, hesitating very little and GET rid of "things" to gain some space. Even if your home is already pretty organized, it'll be nice to have the motivation to go through areas and tweak/refresh. If one of the things don't apply to you (i.e. no garage) substitute it with a different type of area that you want to tackle that's not on the list. Or, take a well deserved day off! 
Since every home is different, we understand that some areas might be too much for you for one day. Other areas might be nonexistent. Use your judgement and skip ahead or take extra time in each space as needed. And, of course, every schedule is different. Some people might only have Sundays available, while for other people, Sundays are impossible. Modify this challenge in a way that works for you.
Our plan is to empty out the space, wipe down the cabinet/closet/area. Then we will create two piles: Garbage and giveaway. If it doesn't go into those 2 piles, it will go right back into the closet. If you want some more guidance on decluttering efficiently, read this post. 

To follow along with the challenge, print out this download by clicking here, or join us on Instagram, Whatsapp status or sign up for a daily reminder email as we remind you every day and share occasional tips!
Day 1
Wallet/Pocketbook
It's easiest to get started with the smallest places. Find some pocketbook organizing tips here.
Day 2
Junk Drawer
After today, you'll always know where to find a pen or scissor. We love this drawer organizer set that puts everything in place. It's also good for makeup, but we'll get to that another day. Reminder: You don't need to keep all those eraser-less pencils and cap-less gel pens. Consider a spot for a hairbrush and ponytail holders, as recommended in this post.
Day 3
Medicine/Bathroom Cabinets
Get rid of old toothbrushes, expired medications, empty containers/bottles, or anything that simply isn't used. Restock with fresh supplies where needed.
* Bonus: Create a travel pack as recommended in this post so you don't have to pack up toiletries (and put them back in the right spots!) when you're spending a Shabbos away. 
Day 4
Under Bathroom Sink
If you have many bathrooms, save this second bathroom day to finish them up.
Day 5
Shoes
Donate gently used shoes/those in good condition to donation bins in your neighborhood. Store away seasonal shoes (pool shoes, etc.). Toss old shoes. 

Day 6
Buffet/Any Area Where You Keep Shabbos Items

Day 7
Garage
If you really have a lot of stuff, organizing a garage is really a better project for the summer time, when it's warm outside. If you don't have a lot of stuff in your garage, you can tackle it now. See this post for some ideas.
Day 8
Coat Closet
Day 9
Refrigerator & Freezer
These pretty storage bowls from Pyrex make for a nice-looking fridge interior. Even though the lids are wood, they wash well in the dishwasher. 
Day 10
Seforim Shelves
Day 11
Kid's Books
If you're extra ambitious, here's one nice organizing method that makes it easy for younger kids to put things away. This post includes a tip for organizing skinny books. 
Day 12
Magazines/Newspapers/Papers/Mail
Day 13
Kid's Clothing
Day 14
Kitchen Pantry
Day 15
Clean out and organize dairy kitchen cabinets
Not everything kitchen-related needs to be stored in the kitchen. Baking supplies that are used infrequently don't have to take up a whole drawer if you're short on space. If you have the space, consider moving spices to a drawer as shown here. These bins are helpful for dividing up kitchen drawers or cabinets into smaller spaces (think measuring cups, whisks, baking cups/supplies, sushi equipment, etc.)
Day 16
Clean out and organize meat kitchen cabinets 
Day 17
Kitchen Counters
Focus on getting things off the counter & find another place for them to "live," permanently. What tends to gather on the counter and why?
Day 18
Car
See car organizing tips here and tips on keep a car clean here.
Day 19
Laundry Room
We love these laundry baskets for sorting because they take up less floor space, are easier to carry than the wider versions, and they're very durable. Divide up by category like recommended in this post, and/or designate a basket for each member of the family. 
Day 20
Kid's Accessories
Girls hair accessories and socks; boys' ties and belts…make everything easier to find. The soft organizing bins recommended in this post are a super cheap way to get all those "little things" in their drawers (and yours) organized. Put away out-of-season hair accessories as recommended in this post. This tie rack is a great value. It looks great (it's even giftable) and will be a nice addition to your son's closet if he has a big tie collection. 
Day 21
Snoods, tichels, yarmulkes and tzitzis
It's a good day to finish up the basics once you're in those drawers. Want to be able to check if those tzitzis are still kosher? See this post. Want to know how to throw away old yarmulkes and tzitzis? See the shaimos list and instructions in this post.
Day 22
Makeup
A bag like this is a great storage spot if you don't have a drawer/vanity. If you do use a drawer, dividers like the ones recommended above (day 2) or this smaller pack is a good option too. 
Day 23
Family Paperwork/File Cabinet
It's finally time to know exactly where to find all that important stuff. See these tips from organizer Shira Weinstein here. 
Day 24
Arts and Crafts
We have a few tips to get those Arts & Crafts organized and under control. See one way here. Another good method is to put away all the "special crafts" in a bin in the garage. This way, only the daily crafts (i.e. the "neater crafts," crayons, coloring books, stencils) have a space in the home and the other messier items (i.e. pompoms, glitter, paint, beads) only get taken out on special occasions. That makes the whole craft-category easier to maintain. 
Day 25
Storage Closet
We like this out-of-season storage alternative to bulky plastic bins.
Day 26
Shells & Basics
Day 27
Skirts and Dresses
Day 28
Nightstands
Day 29
Games
See this post for the best card game organizing tip. 
Day 30
Toys
We saved this for last because this might be a bigger project in some homes that might need more time, but we didn't want to overlook this most-needs-to-be-organized spot. It's best to work with the toys when the kids are NOT home so you can discard what needs be without protest. It's also best to have the toys all nice and organized before Chanukah and the influx of new items. 
FOR EXCLUSIVE CONTENT AND A PEEK BEHIND THE SCENES, MAKE SURE TO JOIN OUR WHATSAPP STATUS HERE.