Our no-fuss nine days menus aren't about indulgent dairy dishes. We're simply serving the basic, easy things our families love.
We don't like calling this list a "Nine Days Menu." It's not a Yom Tov, it's not a simcha. We don't want to forget the meaning of the week by indulging in our favorite dairy foods or fussing over gourmet dairy dishes. Rather, we're going with the simple meals that please our families.
There's something interesting to note on these "menus." Each of us wrote our menu separately…and notice how we're mostly cooking the same things? Sure, some families might be less picky than others, but it doesn't really matter that there's a few cookbook authors among us…when it comes down to it, most of us stick to the basic family favorites that we know will go over well. So, there's no need to get overwhelmed if you haven't put a new recipe on the menu!
Can you guess which menu belongs to who?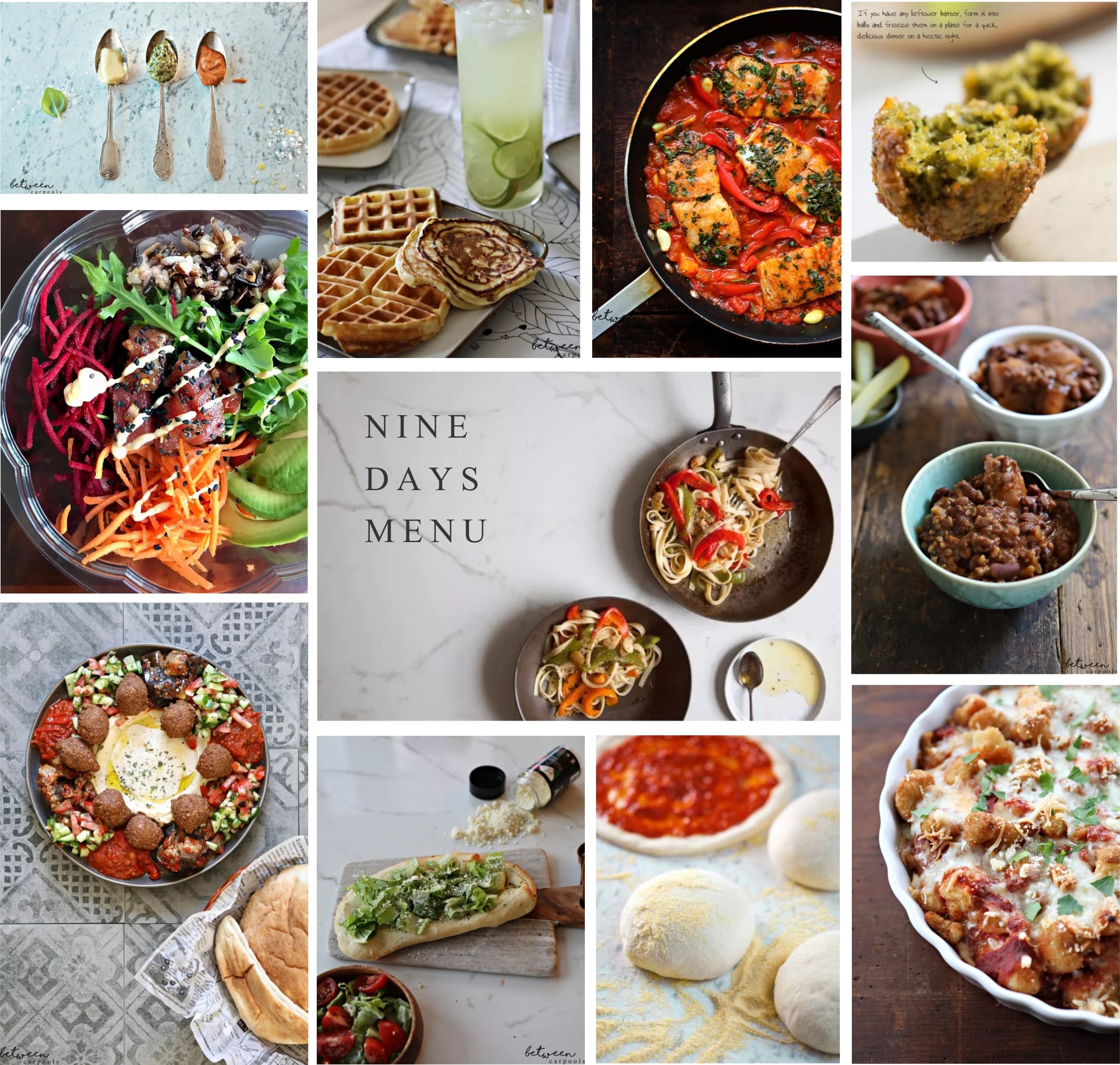 Menu no. One
Menu no. Two
Menu no. Three
Vegetable Soup
Pasta with Homemade Sauce
Green Salad
Milkshakes

Falafel Night

(served bar style so nobody cries that there's a tomato in their pouch. You know what I'm saying.)


Falafel balls,

Israeli salad, Pitas, Techina,

Chummus and Fries
[view our falafel here and falafel plate here]


Poke Bowl

(and Seared Tuna for those who don't like the raw fish.)
[view our poke bowl here]
French Onion Soup with fresh baguettes


Moroccan Turbot


a light salad
[view our moroccan fish here]

Peperonata

or fettuccine Alfredo
(basically one pasta two toppings)
[view our peperonata pasta here]

Store-Bought Pizza
Menu no. Four
Pizza store
Techina Salmon
(warm) Pita, Laffa


Falafel Plate


[view our falafel plate here]
Mini Pizzas
Caesar Salad
No Pot Ziti
Sea Bass
Beet and Goat Cheese Salad
[view our no pot ziti here and pasta recipes here]
French Onion Soup
Panini Sandwiches
 Rice Cakes and Melted Cheese
Apples
Muffins
Break Fast Ideas
Orange Juice and/or Coffee
Muffins
Omelets
String Cheese
WW Baby Pizza
Vegetable Soup
Calzones

Sambousak

Israeli Salad
Avocado Salad