Our Shavuos Menus
Making a menu is perhaps the hardest part of preparing for Yom Tov…sometimes deciding is harder than the actual cooking. Due to all your requests, we're sharing our real life menus. Yes, our styles of serving and customs are all different…but you'll find a style of meal that works for you. And we hope these menus and recipe recommendations will help you get your own menu planning done asap!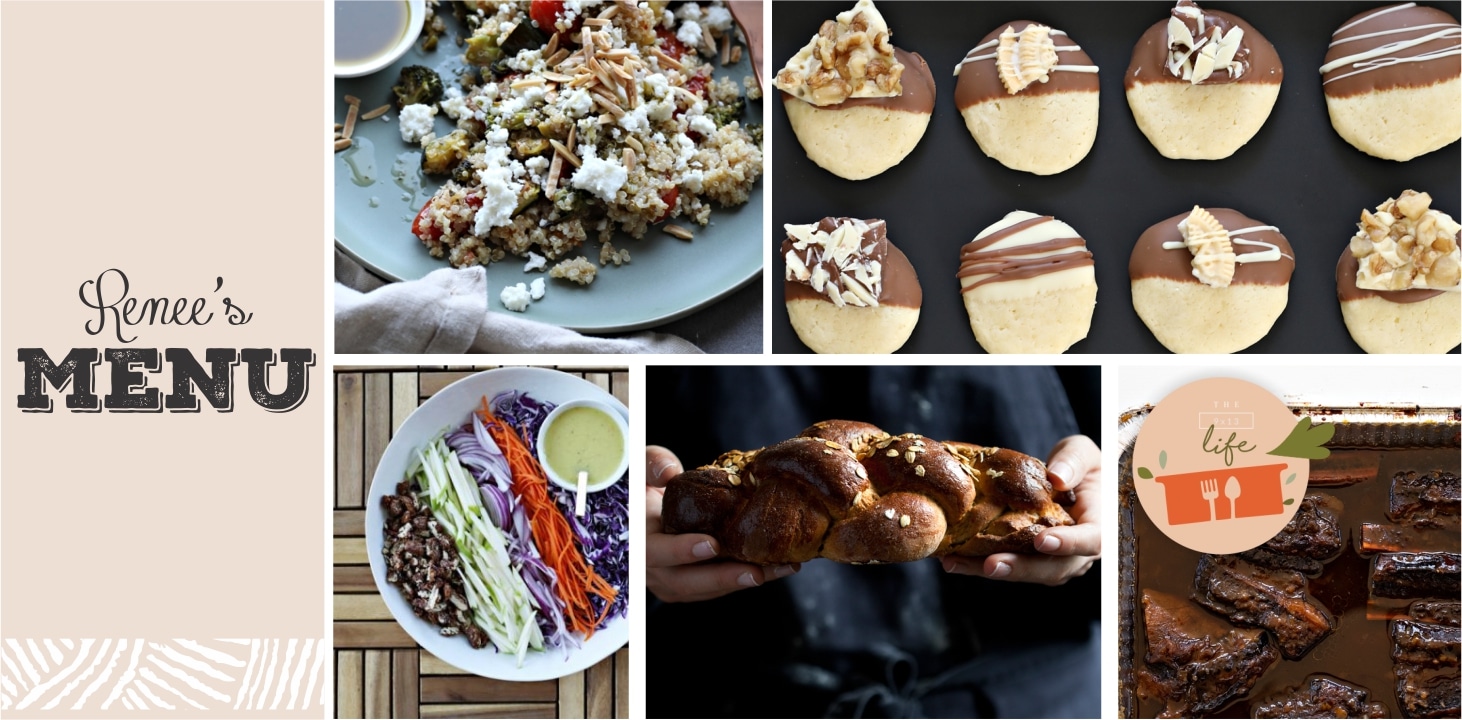 Renee's Yom Tov Night One
"Come Shavuos, I tend to find myself at the KitchenAid around the clock. Cheesecakes, Kaas Potjes, chocolate cheese muffins, outrageous dairy cookies (these right here by Yocheved Lercher), white chocolate meringue cake, and more goodies. The funny thing is, we don't even have one dairy meal! My boys prefer to keep to a dairy Kiddush and the rest is good ol' fleishigs. Oh well. Still, we bake. It's not Shavuos without dairy baked goods." -Renee Muller
So here is what I will be serving this year on the first night of Shavuos:
Really Really Good Whole Wheat Challah (or find it in Our Table, page 186) with Garlic Confit (Our Table, page 148)
Appetizer: Sea Bass Over Quinoa and Beets
I usually serve only one larger cube of sea bass since it tends to be very filling. I'm going to swap out the quinoa for the couscous in Rivki Kleiman's new cookbook Simply Gourmet page 240, since I remember it being super flavorful and the dressing will double well as a dipping sauce for the fish.
Soup: Exotic Wild Mushroom Soup By Rivky Kleiman (Simply Gourmet By Rivky Kleiman page 106). I first tasted this soup at the photoshoot and it has quickly become a family favorite. Elegant yet approachable.
Main: Easiest Spare Ribs over basmati rice.
Side: Sticky Maple Potato Wedges that is, if there are any left come Yom Tov and we don't simply eat them when they come out of the oven.
Salad: This Exotic Red Cabbage Salad because we all need something acidic and tangy to cut through the fatty ribs.
Dessert: Deconstructed Lemon Meringue (Our Table page 246)
Tea and pitzuchim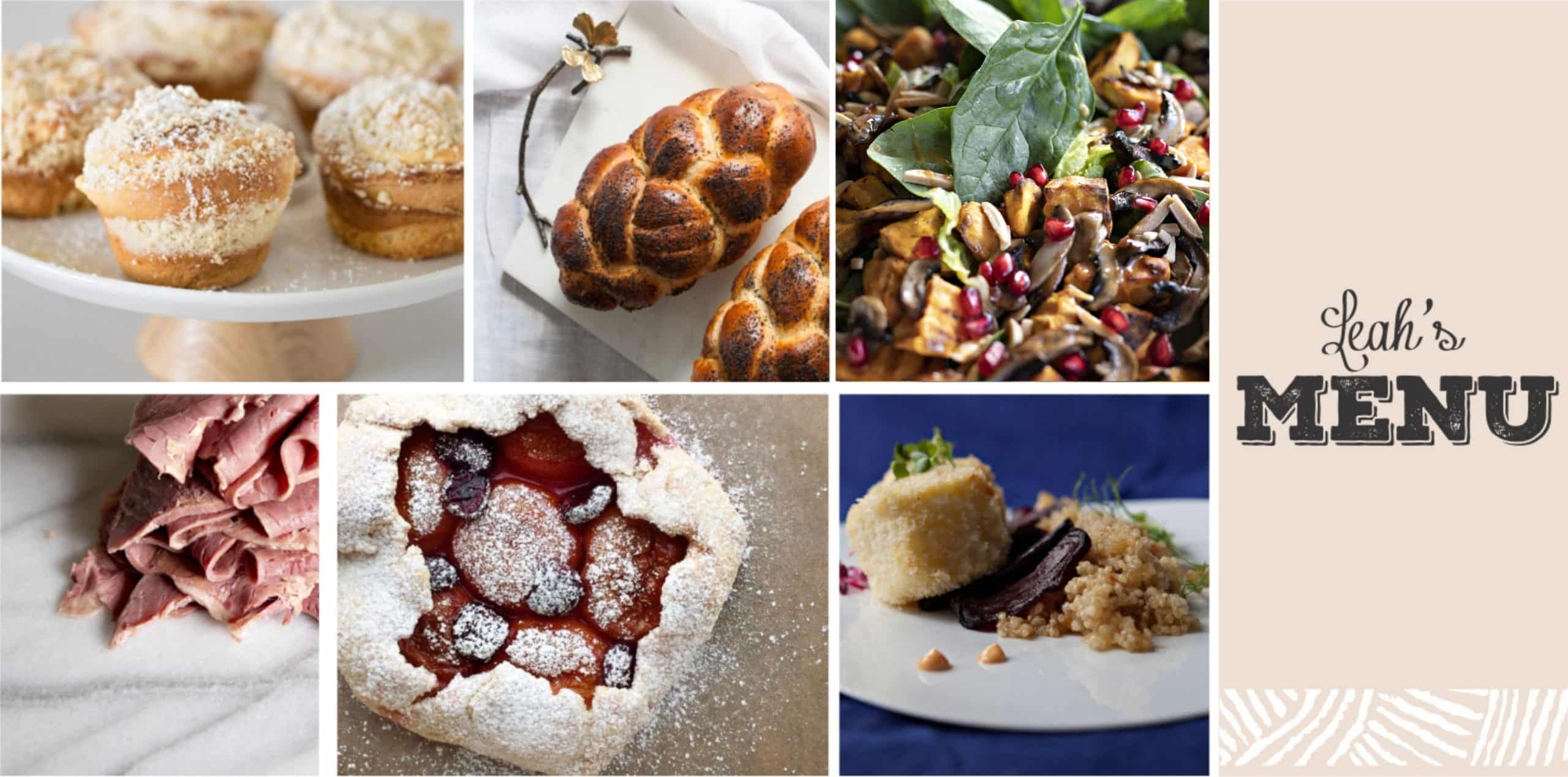 Leah's Yom Tov Day One
"During regular years, I host both a kiddush and meal on the first day of Yom Tov. We take a break between. As far as what's going to be this year, we'll see. But one thing is for sure. Arancini Balls. The kids anticipate them every year even more than cheesecake. It seems like a lot of food, but typically there's a lot guests and I like to have variety so everyone finds something to eat. Even if I will cut it down this year, I'm sharing my complete usual menu so there's more ideas for you." -Leah Schapira
Dairy Kiddush:
Side of Salmon (like the Maple Salmon)
Arancini Balls (Dairy Made Easy)
A Leafy Green Salad (like this one)
Kaas Potjes (Our Table by Renee Muller)
Cheese Muffins
Cheesecake
Herring & Crackers
Kreplach
Iced Coffee
For the Fleishig Meal:
Dips
Sweet Chili Schnitzel
Sticky Red Potatoes (Starters and Sides Made Easy)
Onion Rings (Starters and Sides Made Easy)
Salad
Fruit Galette for Dessert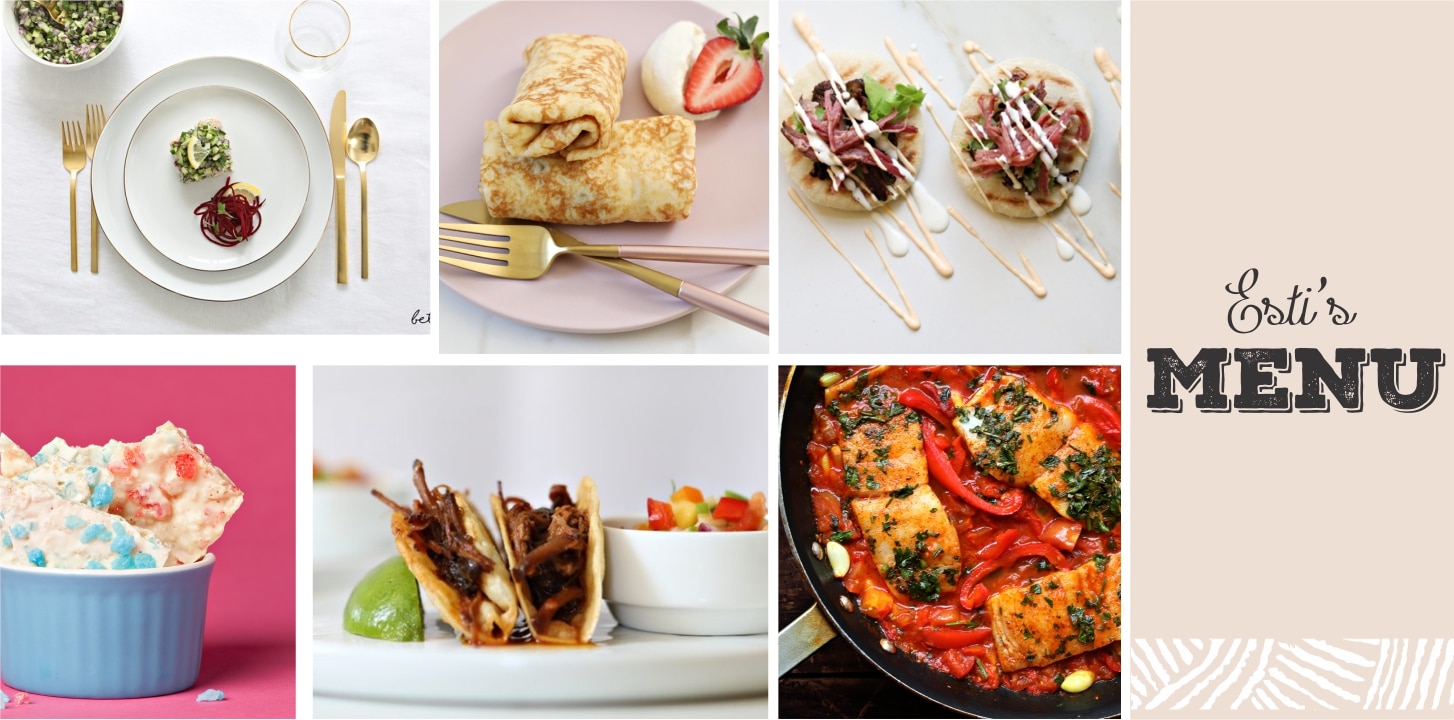 Esti's Complete Yom Tov Menu (designed to feed lots of hungry men)
"Last year, when I sat down to make my Shavuos menu, I just wasn't feeling it. There were lots of yeshiva boys (read: hungry men) invited for each meal, but I just couldn't decide what to make. So I challenged myself to put together a menu using almost exclusively recipes that were on Between Carpools. And it worked! This menu is what I came up with. I cooked it all, served it all and it was all a success, B"H. Even though I won't be serving as many people this year, I've still provided complete menus so you can have your pick of mains, sides, and desserts! There's two dairy and two meal meals here, so you have plenty of options for both." -Esti Waldman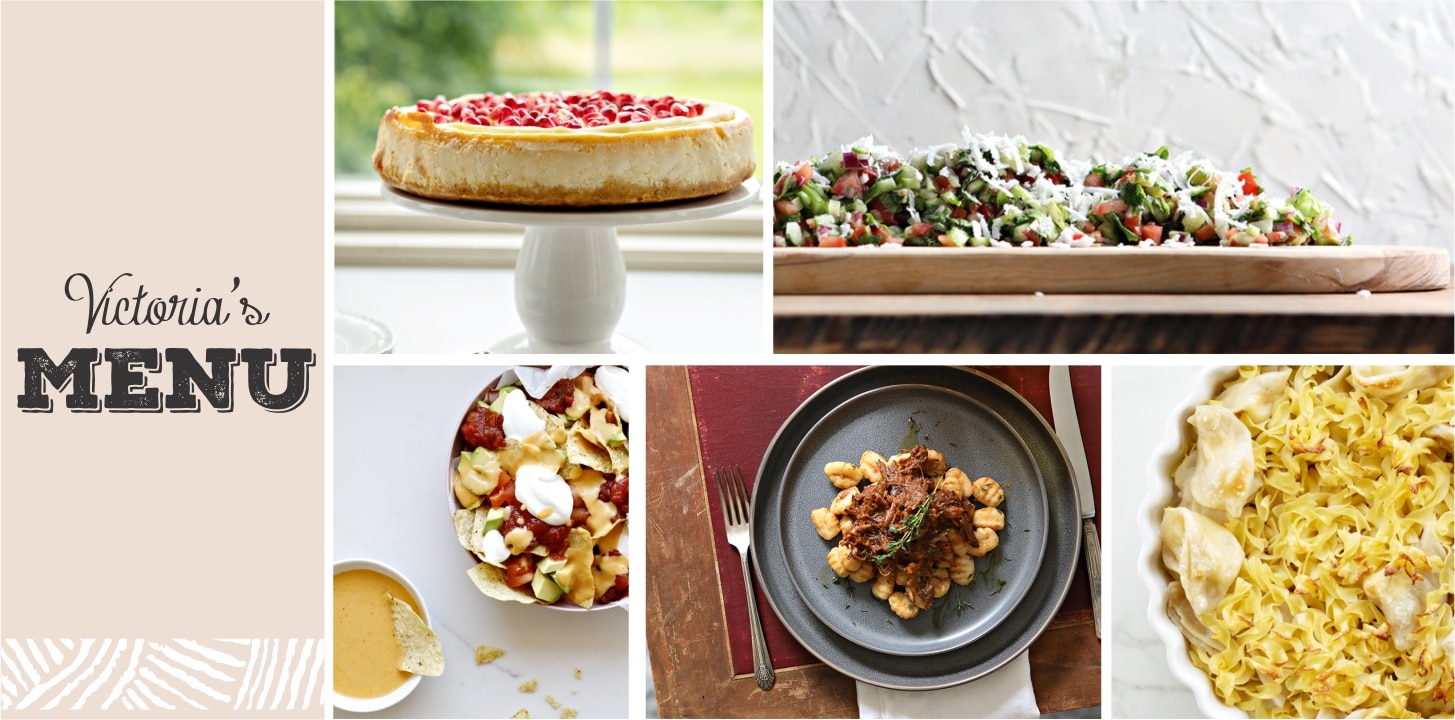 Victoria's Complete Yom Tov Menu
"Usually, when I have company for a meal, I'm also invited out for a meal. Last Yom Tov, I ate out once and had company once, but the rest of the meals were quiet at home. I think that you'll be surprised that my non-company meals are really simple. I updated my menu to be practical for this year. I have to think practically when preparing for just me, my husband, and kids: something my husband likes (the chashuve meat), something I like (something healthy/light), and something or two that the kids will actually eat (basic and familiar). If I just try to fill those three categories, I'm set and it doesn't need to get so complicated. For dessert in the summertime, we all really like ices/ice cream, so when it's just my family, that works for dessert and I don't really need to bake so much." -Victoria Dwek